Scholar, social worker, mentor, community leader, and now a Canadian senator: there's no shortage of different ways to introduce Wanda Thomas Bernard.
 
"She's very modest, so she always gives me a head shake when I mention all of her titles and her honours," said Dal President Richard Florizone in his introductory remarks at last week's on-campus event featuring an in-depth conversation with Dr. Bernard in celebration of International Women's Week.
 
But the long-time Dal professor's modesty belies a lifetime of personal and professional achievements stretching back to her childhood. At age 12, Dr. Bernard and her older sister stepped up to help their mother raise a house full of younger siblings after their father died suddenly in a tragic car accident.
 
It was the kind of life-changing experience that thrust a young Dr. Bernard into adulthood far ahead of schedule — but also one that also left her better equipped to face the challenges life has thrown at her since..
 
Friday's event, organized by Dr. Florizone's office, took the form of a conversation, with Social Work student Danielle Hodges and History and Contemporary Studies student Jennifer Hall asking Dr. Bernard a series of questions linked to broader themes of women's rights and gender equity.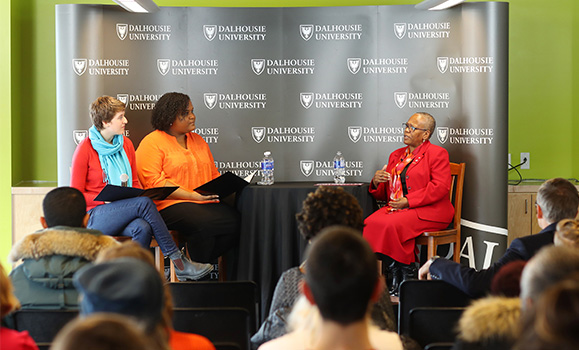 Dr. Bernard captivated students, faculty, and staff in attendance with her stories and wisdom during the hour-long discussion tackling a range of subjects from the barriers facing woman in leadership positions to how to get more women involved in public life.

Encouraging women

"Finding ways to encourage people is so vitally important," said Dr. Bernard in response to a question on the latter topic, "and finding ways to encourage women is especially important because not many of us have that kind of encouragement."
 
She said one of the reasons applied for the job of director of the School of Social Work more than 15 years ago was because she'd heard through a colleague that the dean at the time thought she'd be a great fit for the job. She said it's unlikely she would have seriously considered applying for the position, which she subsequently held for a decade, if she hadn't known that.
 
"She had a vision for me when I didn't for myself," said Dr. Bernard. "I thank those people who believed in me when I couldn't believe in me."
 
It's a role Dr. Bernard has often played herself as a professor and mentor to others in the classroom and in the community.
 
At the event, Dr. Bernard encouraged young women to be bold about finding mentors, and follow up if they find someone they want to connect with — even if they are shy like she once was.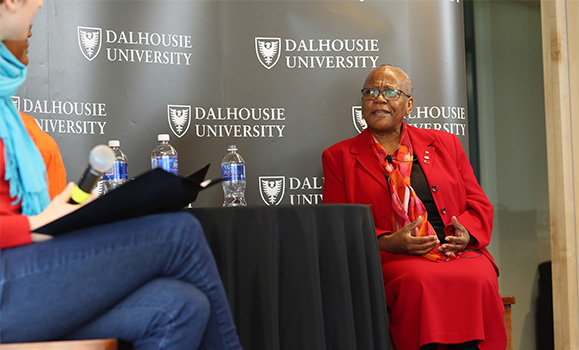 "The only thing worse than feeling fear is not doing something because you feel the fear," she said, noting she still has fear about certain things but doesn't allow it to hold her back.

Keeping the fight alive

That's clear to anyone who takes a look back at Dr. Bernard career, which has included 25 years as a Social Work professor at Dal. She said women have made many gains in achieving more equality in leadership positions during this time, but quoted former U.S. Secretary of State and 2016 Democratic presidential candidate Hillary Clinton in calling "the rights of women and girls is the unfinished business of the 21st century."

"We got to a place where we thought we won the gender war," said Dr. Bernard. "Let me say now: we haven't, and I think people know that we haven't," noting that schools don't teach enough about women's rights anymore.

Even now, even after all her success and her appointment last fall to the Senate of Canada, Dr. Bernard says she still faces discrimination on the basis of her gender and race. (She explained how she nearly missed a flight to Ottawa recently for her weekly Senate meetings when an airline worker gave her a hard time about showing her Senate ID to get onto the plane.)   
 
Rather than getting discouraged by such encounters, Dr. Bernard said she strives to channel her anger in a positive direction.
 
"The things that make me angry are actually the things that fuel my passion for social justice, fuel my passion to continue in the fight, reinvigorate me at times when I feel like I can't do one more day of whatever it is."
You can watch the full discussion on Dalhousie's Facebook page.