A new year has only just begun, but Lyle Quinn is already looking ahead to the next one.

"It's a once-in-a-lifetime experience," he says of Dal's upcoming 200th anniversary in 2018. "I'm excited about a shared celebration bringing our campus community closer together."  

Quinn is a recent alumnus (BA'14) and a manager with the university's Conference Services office. In addition to supporting conferences and special events for Dal's 200th anniversary, he's Homecoming chair of the Dalhousie Alumni Association's Board of Directors and a volunteer with the Dal Originals storytelling oral history initiative, helping interview notable individuals from the university's past and present.

"Contributing to this project with the University Archives was such a great learning experience," he says. "As a Sociology & Social Anthropology major, I geeked out a little when I heard about the project."

Randy Barkhouse is president of the Association of Dalhousie Retirees and Pensioners and a couple of generations removed from Quinn (and a three-time Dal alumnus), so he might choose a different term than "geeked out" to describe his involvement in the university's 200th. But he's incredibly excited nonetheless.

"I believe observing such an anniversary provides a few instances to pause and assess the contribution Dalhousie is currently making, and to note all those who have assisted its mission in the past — whether as an employee, a board member, a donor, a student, parent of a student, or otherwise," says Barkhouse who, like Quinn, has been volunteering with the Dal Originals project.   

"It is important to know how we got to where Dalhousie is today, and it is also an opportunity to reflect on Dalhousie's mission in higher education and to renew and update."
Reflection and celebration

Quinn and Barkhouse are two of the hundreds of Dal faculty, staff and students who've already had a hand in the planning process for Dalhousie's 200th celebration. With a variety of university-wide, Faculty and community activities, 2018 is poised to be a year that shares Dal's stories, opens the university's doors and builds excitement for the future like never before.

"It's a chance to reflect on our contributions, our values and our mission going forward," says Chris Moore, dean of the Faculty of Science. He's a member of several planning committees for the 200th, including serving on the university's overall steering committee. "Two hundred years is a long time. We need to celebrate this landmark and at the same time appreciate that we can build on this foundation and become stronger as we move forward in our third century."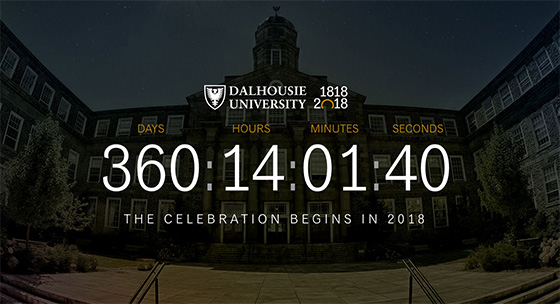 This week, one year out from the start of Dal's anniversary year, the university has launched dal200.ca. At this early stage, the website highlights just a few of the many events being planned for 2018, with much more to be announced in the coming weeks and months. The site also includes an initial timeline of Dal's history, featuring images from University Archives and Special Collections; opportunities for alumni, faculty/staff, students and community members to share their stories and experiences; a social media feed (#Dal200); and an interactive alumni map.

"As we count down to 2018, content on the site will continue to grow and expand," says Hope McCallum, director of marketing for Dalhousie. "Feel free to take a look around, add your story and be part of the celebration."
Learn more: dal200.ca

"A bicentennial celebration is pretty rare — only a handful of other Canadian universities have marked this milestone," says Catherine Bagnell Styles, assistant vice-president of Communications and Marketing and 200th planning chair. "It's an opportunity to reflect and honor the past and envision the future.   It's also a tremendous opportunity to say a huge thank to those who have helped us get to this point — our students, alumni, faculty, staff, donors, friends and neighbours, on and off campus.

"We really want our entire city, region and even our country, to feel this is their celebration, because we wouldn't be here without them. "

Signature events, community celebrations and more

Dal's 200th celebrations will include signature activities — university-wide programs focused on celebration, inclusion, leadership and legacy — alongside Faculty and unit initiatives and prominent partnerships with community organizations.  

"When you celebrate a milestone of this significance, it's really exciting," says Michelle Patrick, program manager of PLANS (Promoting Leadership in Health for African Nova Scotians) and co-chair of the Black Faculty & Staff Caucus. She's been helping organize a special lecture series that will take place in 2018.

"You think about how much has happened in 200 years, the university going from a single small building and a few people to this major research university that reaches locally and globally. The anniversary is a chance to celebrate, and to think about how the next 200 years can be even bigger and better."

A few examples of 200th activities being planned include:
The President's Bicentennial Address, on February 6, 2018 — the anniversary of Lord Bathurst approving Lord Dalhousie's request to create a university.
Dal Originals, a year-long celebration of individuals who have shaped the university and our world. In total, 52 Originals will be profiled weekly throughout 2018, their stories shared online and in video.
The Faculty of Arts and Social Sciences have confirmed George Elliott Clarke (Dal grad and Canada's Parliamentary Poet Laureate) will compose a poem in honour of Dal's 200th. The Faculty is also commissioning a new piece of celebratory music.
Dal Libraries will host an expanded Halifax Word on the Street festival.
The Dalhousie Art Gallery is planning several special exhibits.
The Faculty of Computer Science has an important gender-in-the-classroom project.
The Faculty of Management will be planting 200 new trees on campus.
Ancillary Services will be offering a special 2018 coffee brew.

And there is much, much more still to be confirmed.  

Visit dal200.ca to learn more about the 200th planning. Want to keep tabs on what's to come? Regular updates will be featured in Today@Dal (the university's newsletter for faculty/staff), and look for Dal News profiles of the people and projects of Dal's 200th in the weeks and months ahead.

A new look rising

The dal200.ca website is also the first place where the university's new 200th logo comes alive. You may have gotten a first-look at the logo during consultation sessions last summer — thanks to all who provided input.



Stationery with the new logo is now available from the Dalhousie Print Centre. (Although feel free to continue using what you have — purchasing new stationary with the 200th logo is not required.) Find out more about the logo and how to use it here [PDF].