Last week, Dal's Science community shed light on the incredible biodiversity found on the university's urban campus with a unique sort of scavenger hunt.

It was a scene reminiscent of this past summer's Pokemon GO craze: people of all ages walking around outdoors, pointing their smart phones at seemingly random things, then moving on shortly after.

But on this particular day — Thursday, September 8 — members of the Dal community weren't adding to their digital collection of fictional creatures. Instead they were locating, recording and identifying as many living things as they could find in a given area on campus.
Turned into a BioBlitz


The occasion was Dal's first ever BioBlitz, an effort to take stock of all life on Studley Campus—birds, insects, plants, animals and more.

To tackle their goal, BioBlitz organizers needed an army of explorers and experts to help guide the day. They recruited help from both inside and outside Dalhousie.

"This was a chance to invite anyone, and for everyone to take part," said Susan Gass, a BioBlitz organizer and instructor with the Department of Environmental Science. Students, faculty, staff and community members accepted the invitation, with about 100 people contributing to the BioBlitz throughout the day.

"It was a good example of a citizen science project," said Gass.

For fourth-year Biology and Math student Danielle Hill, the BioBlitz was appealing because it would allow her to see Dal in a new way.

"How often do we stop and think about all the thriving organisms and creatures that are living amongst us as we rush to and from class?" said Hill. "It's a different way to appreciate Dal."

A thriving campus

During the all-day event, groups and individuals set out to explore quiet corners of campus that turned out to be teeming with life.

"It's an isopod," explained Hill, pointing to the potato bug in her hand while barefoot and knee-deep in Ocean Pond (between the MacDonald and Chase buildings).

Near Sherriff Hall, a volunteer from the Nova Scotia Museum of Natural History helped students identify wasp larvae found inside a broken tree branch.

All of Dal's first-year students in the Integrated Science program participated in BioBlitz, despite it being only their third day of classes.

BioBlitz participants used a platform called iNaturalist to track what they found throughout the day. The app allows users to take a photo of something, attempt to identify that species, and tag the location it was found.

At the end of the day, 688 observations were made and 269 species were identified.

Learn more: View Dal's BioBlitz project on iNaturalist

"We're interested in urban biodiversity and really highlighting that there is life everywhere," says Lara Gibson, another BioBlitz organizer and instructor in the Department of Biology. "Almost 300 species live on this one small little campus, which is amazing to think about."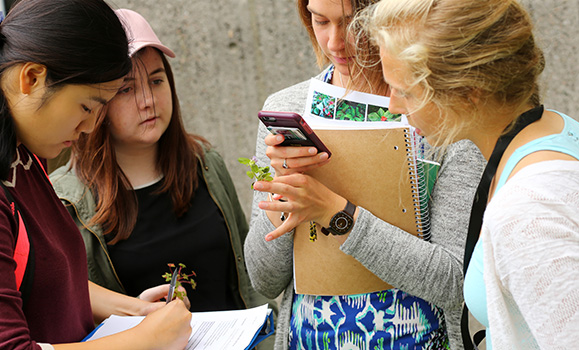 Working with the data

As part of an experiential learning course this semester, Hill and two other students will identify the many unidentified organisms logged on iNaturalist during the BioBlitz. Then they'll create the first-ever report outlining the range of biodiversity on Studley Campus, which will build on the Office of Sustainability's inventory of trees on campus.

The BioBlitz data will also be built into the curriculum of the Diversity of Life I class and may serve as data for a first-year Integrated Science student research project in the winter term.

While this year's BioBlitz was a pilot project made possible through Academic Innovation funding, Gibson and Gass are already brainstorming ways to get another BioBlitz on the go. Both agree that hosting one during a different time of year is a possibility, since tracking biodiversity throughout the seasons is also important. Until then, they hope the eye-opening BioBlitz experience will leave an impression on those who joined in.

It certainly left an impression on Hill.

"There's a lot more than you think living on campus. It's not just us students! We're invading something else that is going on," says Hill. "Maybe if we realize how much is living here, we'll take a little bit more care of our campus."