It's Thursday night in a crowded first-floor auditorium inside of Dalhousie's Tupper building. The atmosphere seems more like what one would expect before a movie than a lecture series: people scramble to find seats, and some even sit on the floor in the back. There is an excited chatter running through the room.

Perhaps that's because these are no ordinary lectures these attendees will get to hear: it's the final heat of Dalhousie's Three-Minute Thesis competition.

Since its inception at the University of Queensland in Australia in 2008, the Three-Minute Thesis competition, or 3MT, has become a global sensation. As described by Dean of Graduate Studies Marty Leonard in her opening remarks, it's "a challenge set out to grad students to take their complex interesting research projects and condense them down to a three-minute presentation [that] all of us can understand."

To take something as complex as a graduate thesis and shrink it down to three minutes is no small task, which Dr. Leonard acknowledged: "I bet for many of you, it's taken more time to do this three-minute talk than a 50-minute research seminar," she said, to approving nods from the competitors.

The challenge is made even more difficult by the simple-but-stringent competition rules: a single PowerPoint slide, no props or electronic media and a strict three-minute time limit. The competition almost looks more like a poetry slam than an academic event, stripping all of the focus down to the competitor and their words. It is precisely this unconventional nature that drew such an enthusiastic crowd to Thursday's finals.

Trained and ready  

The 10 competitors were already winners, having prevailed in various preliminary heats the previous days. The topics were wide ranging in their content: proxy wars, tracking ships on the ocean with satellites, engineering better models to help treat concussions. Four of the contestants hailed from the same department — Biology — which, while a point of pride, required Dr. Leonard (a Biology prof) to recuse herself from the judging panel. The trio tasked with the daunting task of deciding a winner included Acting Vice-Provost Student Affairs Anne Forrestall, Pharmacology Professor and Associate Dean of Graduate Studies Eileen Denovan-Wright and Biochemistry PhD alumnus Eric Fisher.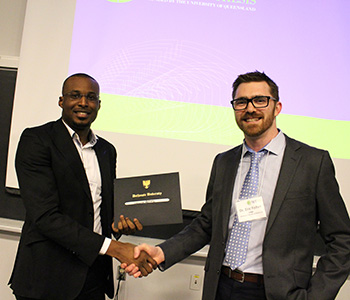 Following 10 engaging, exciting performances, the judges picked their winners. Taking home top prize — which included a $1,000 scholarship and a trip to represent Dal at the Eastern Regional Championships at Memorial University — was PhD student Ubong Peters from the Department of Biomedical Engineering, who presented on his work into a new breathing diagnostic device for assessing lung mechanics.

Peters said he was extremely grateful for the support of his supervisor, Geoff Maksym, and added that the presentation took "three weeks of very serious presentation. It ended up being more difficult preparing a three-minute talk than preparing a ten-minute talk or a thirty-minute talk. It was a good experience."

He wasn't the night's only winner: second- and third-place finalists received $500 and $250 scholarships, respectively. Second prize was awarded to Josh Latka, an Engineering Mathematics student, for his presentation on his work developing an analytic solution and prediction model for concussions. Third prize went to Biology student Karen Filbee-Dexter for her presentation exploring connections between collapses in kelp ecosystems with sea urchin populations.

Also taking home a prize was Biology student Kristina Boerder, who received the people's choice award — voted on by the audience — for her presentation on detecting fishing vessel behaviour from space.

Congrats to all the winners and the more than 100 students who took part in the competition. Want to get ready for next year's showdown? Visit the Graduate Studies website to see the rules and start preparing.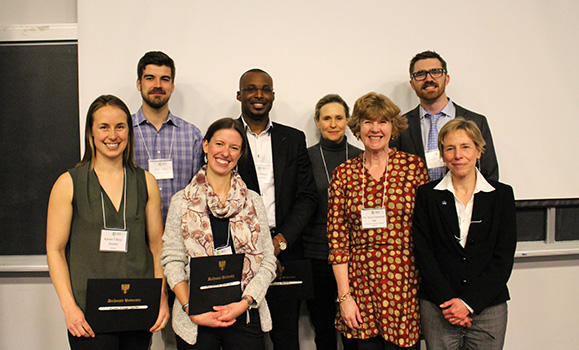 Dal 3MT winners and judges with Dean Marty Leonard. Front row: Karen Filbee-Dexter, Kristina Boerder, Anne Forrestall, Dr. Leonard. Back row: Josh Latka, Ubong Peters, Eileen Denovan-Wright and Eric Fisher.