In the summer of 2015, Dal English professors Leonard Diepeveen and Jason Haslam sent out a handful of memos to faculty in their department — a classic "wouldn't it be cool 'if'...?" message.

The 'if' was the opportunity to launch a grassroots bursary fund in the department to provide financial aid to Aboriginal and Black Canadian students attending Dalhousie.

This upcoming academic year, their idea will come to life. Last Thursday, the Faculty of Arts and Social Sciences and the Office of Advancement hosted an event in the McCain Building to publicly announce the new bursary fund for Black Canadian and Aboriginal students who have declared themselves as English majors — setting an example that others departments are looking to follow.

Addressing financial need

Drs. Diepeveen and Haslam are the two faculty members leading the effort. Considering how to increase and sustain diversity on campus, the duo decided to gauge the interest among their colleagues in establishing a bursary fund through ongoing payroll deductions. The positive response prompted them to launch a targeted bursary that is based solely on financial need and directed to historically marginalized groups in Nova Scotia.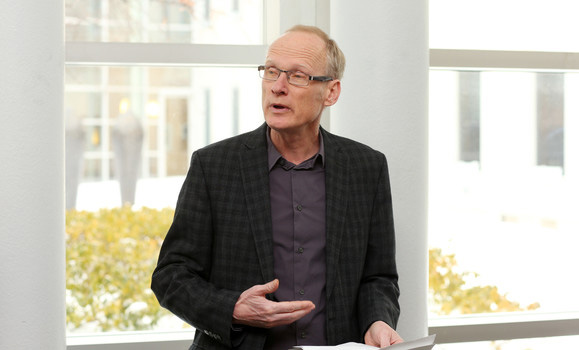 "Part of this came about as a realization: both in awareness of the lack of diversity among our own student body and in awareness that if you're the first generation and you're having financial difficulties getting to university, needs-based bursaries are incredibly important," says Dr. Diepeveen (above). "Diversity should not be hampered or lessened because students don't have the financial ability to be here."

Dr. Haslam says that with with tuition costs increasing and student debt where it is, bursaries are essential to providing initial opportunities to students of marginalized groups and keeping them at the university to complete their degrees. He highlights the recent Truth and Reconciliation Commission report for emphasizing the role universities and other educational institutions can play in fostering diversity, especially when it comes to reconciliation between Canada and its Aboriginal communities.

"I think that we're responding to local conditions with a global problem in mind," he says. "We talk the talk, but we really want to put our money where our mouth is and try to make this a more inclusive, welcoming and diverse place."

Once plans are finalized, the English Department hopes to award multiple bursaries, possibly one or two at $3,000 or $4,000 along with some smaller bursaries.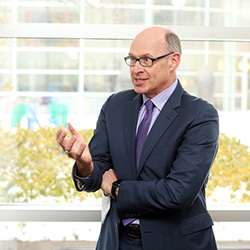 Stephen Harding (right), Dalhousie's acting assistant vice-president development in the Office of Advancement, spoke at the announcement, and is a keen supporter of the new bursary fund.

"I think what I'm most impressed with is the fact that this is a grassroots initiative, and it's really the members of the department stepping up to support diversity," he says. "This is exactly in line with that strategic priority of making the university option available for those students. Bursaries like this offer students the opportunity to spend more time on their studies rather than worrying about buying books or rent, so it fills the gap for students to complete their degree."

Inspiring similar efforts

During his speech at Thursday's event, Dr. Diepeveen also invited other faculty and staff to take part in establishing their own bursary initiatives than can target the needs and culture of their own departments. So far, representatives from History, Sociology and Social Anthropology, Philosophy, Physics and Atmospheric Science, Computer Science, ITS, and Nursing have expressed their intentions to create similar bursary funds.

Harding says the team at the Office of Advancement will be there to support any other units or departments at the university who want to undertake the same type of grassroots initiative among their faculty.
 
From the impact their initiative has already made on other faculties, the efforts of the Department of English are not going unnoticed. Norma Williams, executive director of diversity and inclusiveness at Dal, applauds the new bursary fund and the department for taking the initiative to meaningfully support the open doors of post-secondary education.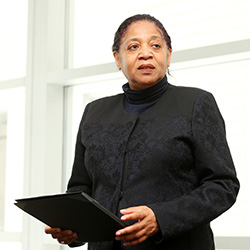 "Bursaries such as this provide an important bridge between what is and the future," says Williams (left), who also spoke at the event. "We have identified in the Belong and other reports that Dalhousie is underrepresented as regards students, faculty and staff from Aboriginal and African Canadian communities. Bursaries can mean the difference between continuing on or leaving school."
 
She adds that Dal's goal of a representative workforce is also linked to increasing Aboriginal and African Canadian student entrance and graduation numbers, and to supporting student movement to faculty and staff positions within higher education, at Dalhousie or elsewhere.
 
"It's my belief that faculty and staff across Dalhousie are working hard to demonstrate who belongs here," she says.