Dal's newest student space was a flurry of activity Thursday morning as students, faculty, staff and special guests celebrated the official opening of the Wallace McCain Learning Commons.

Yet the most important happenings of the morning weren't at the ceremony itself, even given the significance of Dal President Richard Florizone and Dr. Margaret McCain — whose donation to the university, together with her late husband Wallace, of $8 million made the space possible — cutting the ribbon on the new addition to Dal's Life Sciences Centre.

No, what mattered most happened after the ceremony, when the audio-visual gear, the podium, and the Food Services trays had all been carted away. It was when students began to sneak through the last lingering remnants of the crowd, finding plenty of space in which to sit and relax. They pulled out laptops, textbooks and notes. They began chatting about the business of their day: classes, assignments, deadlines. In a corner of campus long lacking this sort of comfortable, collaborative space, the Commons' first visitors were settling in as if it'd always been here.

In other words: students were starting to make the Wallace McCain Learning commons their own. And in doing so, they were bringing the shared vision of the McCain family and Dalhousie University to life.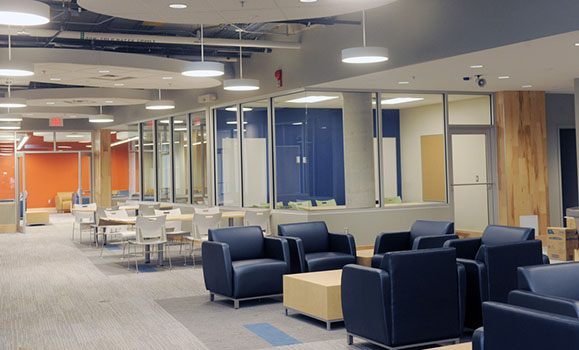 The Wallace McCain Learning Commons is a brand new 13,600 sq. ft. space connected to the Life Sciences Centre (LSC). It's accessible either through the LSC (in what is known colloquially as "the tunnel" to Chemistry) or from a new entrance from Lord Dalhousie Drive. Its purpose: to provide much-needed space for academic collaboration, group and private study and building student community.

"If you talk to our students, they'll talk to you about having more space for study, more space to get together," said President Florizone at the opening, noting that such "Learning Commons" form a key component of the university's Campus Master Plan.

"We've expanded our library hours, we've tried to create as much as we can with existing assets, but it's only by creating new spaces like this that we can accommodate and create the latest learning environment and the greatest space for our students. It's strongly needed and it's a such thrill to see it become a reality today."

While some of the Wallace McCain Learning Commons' features are specific to students in the Faculty of Science — it hosts the Science Academic Resource Centre for peer-to-peer support, as well as office hours for Science liaison librarians — the space is meant to host the broad cross-section of students who spend time on the west end of Studley Campus. It features group study rooms, collaborative workspaces, computer workstations, and Dalhousie Libraries resources, including staff who can provide referrals for library services as well as deliver on-site IT assistance.

Ian Hill, acting dean of the Faculty of Science, said the Learning Commons reflects a lesson he often shares with students: that the most important part of the university experience is interacting with their peers.

"No matter how good your professors are, how tough they are, you learn more outside of class from your interaction with your peer group, working hard on assignments, working together, discussing course material, than you ever will from lectures," he said. "So I think having spaces like this enables students to have more and more of that interaction, which therefore enriches the university experience and enables better learning."

That message was reinforced by Kelly Regan, Nova Scotia's minister of labour and advanced education, who spoke at the opening ceremony.

"I'm delighted to see such a tremendous space where I know our students here at Dalhousie will be solving the world's problems," she said. "This is a perfect space to inspire them to think new things, and I think that's the kind of thinking we want here in Nova Scotia if we want to see our province grow and prosper."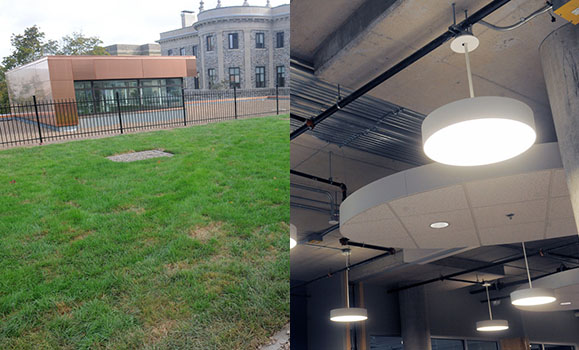 The Learning Commons, designed by Harvey Architecture with Richard White as lead architect, is bright, spacious and comfortable. It's also a LEED Gold candidate, featuring a partial green roof accessible from the lawn next to the Henry Hicks Building, LED lighting throughout (a first for Dalhousie), and an ultra-efficient system for heating and cooling.

Its eye-catching copper exterior — which will eventually change from its bright penny colour to a green patina — also offers a new focal point for entering campus from Coburg Road, something that University Librarian Donna Bourne-Tyson feels is a perfect match for the space inside.

"We love that this is one of the 'doorways' to Dalhousie," she said. "Libraries are very warm, welcoming, neutral spaces, so it's lovely that we're the front door to the whole university now as well, welcoming people and helping them find their way through the halls of higher learning."
None of this would have been possible, though, without the generous support from Dr. Margaret McCain and her late husband, Dr. Wallace McCain. Their $8-million donation to the university, announced shortly after Wallace's passing in 2011, funded the development and construction of the new facility.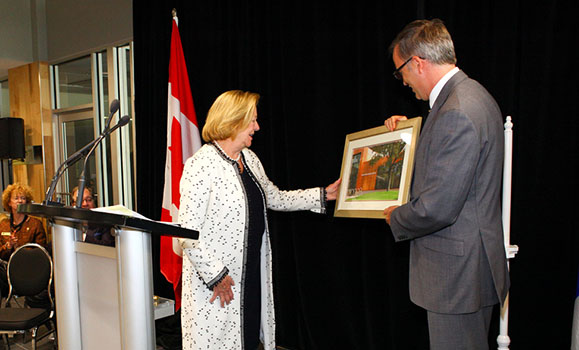 President Florizone presents Dr. McCain with a ceremonial portrait of the Wallace McCain Learning Commons.
"This is a very special day, a very meaningful day, for me and for my family," said Dr. McCain at the opening. "I just wish that my husband had lived long enough to see this come to fruition. He would be so happy, and I do have the sense that he is here with us."

The genesis for the Learning Commons came from the shared interests of the McCains and the university. Dal's Faculty of Science had long recognized the need for better student space in and around the Life Sciences Centre (LSC).

"I had noticed that in this LSC, at a given time there might be more than 1,000 students changing class, and there's no place in the building for them to go," said Keith Taylor, who was dean of the Faculty of Science when the idea for a learning commons first took shape. "You'd find [students] sitting on ledges, standing in little groups trying to work, or going out to the parking lot and sitting their car to work. The [Killam] Library's Learning Commons was great, but it was always full. So our Faculty's idea for improving the student experience was the need for a student commons in or near the LSC."

That idea aligned perfectly with the vision of the McCains. Wallace, one of Canada's most influential entrepreneurs, and his wife Margaret have long been among Canada's most celebrated philanthropists and have a storied history of generosity on a number of issues and topics — in particular, education. In 2007, they approached Dalhousie with an interest in investing in the university. 
"It was because Wallace recognized, as I do and as I feel this country does, that Dalhousie is one of the top institutions of higher learning in Canada, and we wanted to be part of keeping that reputation of excellence," said Margaret, who discussed why she and Wallace felt student-focused community space is so important.

"Seeds are planted, truly, in the textbooks and classrooms, but providing space for these seeds to grow, to be nurtured, to cross-pollinate, to thrive, is where real education begins. And this is what we envisioned when we decided to invest in the Wallace McCain Learning Commons at Dalhousie."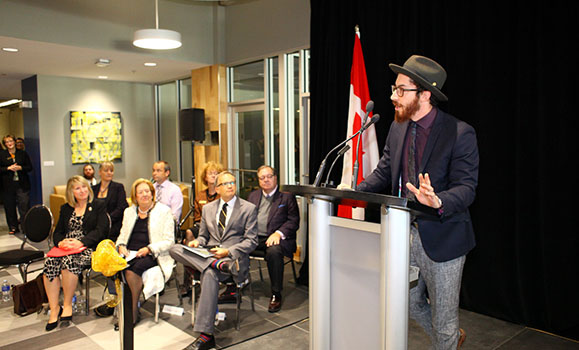 At Thursday's ceremony, Dan Nicholson, Dalhousie Student Union president, expressed his appreciation for the McCain family's generosity and their vision — one, he says, that is shared by the university's students.

"This donation by the McCain Family stretches far beyond just the concrete and the computer equipment that we see here," he said. "It's an investment in the Dalhousie community, which represents the faith and ability for this institution to instill values of generosity, of kindness and goodwill in our students, just like those that are reflected in the actions of the McCain family."

President Florizone echoed those comments: "We hope that this space is a true testament to [Wallace's] legacy, and it's our hope that that legacy will live on through our students."

That legacy's impact began the moment the crowd left the room, as students trickled in to find a space to work, to study, to socialize.  

"It makes the university experience much more than a series of appointments," said Dr. McCain, summing up what the Learning Commons will mean for Dalhousie. "It will enrich the Dalhousie experience for students. It will help to create lasting friendships and memories and, most of all, this is where education will really bloom."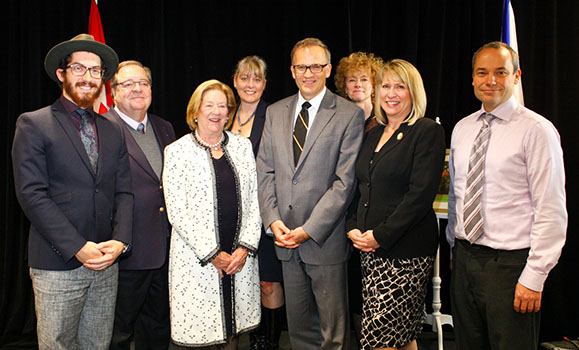 The opening ceremony's platform party, L-to-R: Dan Nicholson (DSU President), Guy Berthiaume (Librarian and Archivist of Canada), Margaret McCain, Verity Turpin (interim executive director, student support services, and executive director, student wellness), President Florizone, Donna Bourne-Tyson (university librarian), Kelly Regan (minister of labour and advanced education), Ian Hill (acting dean of science).