Back-to-school time is full of firsts. It might be the first day at school for little ones, while for others it could be the first day at a new school or in a new classroom with a teacher they haven't had before. For some children, it can be the first time they receive dental care.

Dalhousie University's Faculty of Dentistry operates paediatric dental clinics in Dartmouth and North Preston and Harbour View Elementary School in Dartmouth. Both of these clinics are busily preparing for the return of children after the summer break.
North Preston: serving the community for 20 years


For Juliette Thomas, a full-time dental assistant who manages the North Preston clinic, back to school means setting up equipment that has been locked away all summer and dealing with lots of paperwork, particularly parent consent forms and recalls for assessments and x-rays. She is also busy telling parents that the clinic is reopening and getting ready to spread the word at school orientation and curriculum night events.

The clinic at Nelson Whynder Elementary School has two dental chairs and operates three days a week in a brightly painted room, decorated with flowers and Disney characters – the handiwork of Thomas herself. It provides free dental services to the school's 94 pupils and for a further 20 or more children from surrounding communities, pre-schools/daycares, and youth homes. Thomas and a paediatric dentist from the IWK Health Centre look after the children with help from fourth-year dentistry students who rotate through the clin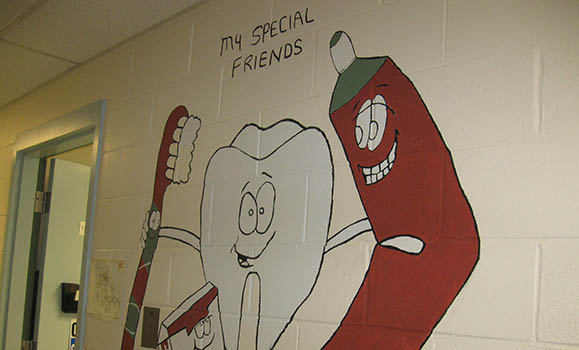 ic.

Now approaching its 20-year anniversary of service to the community, Thomas explains that at the time the clinic was set up there were not many outside services, such as dental care, available in North Preston. "Dalhousie Dentistry saw an opportunity to set up a community outreach clinic and we've been here ever since."

She says the dental clinic is well known and respected and provides a much-needed service to the community. For parents, there is the sheer convenience of having their children receive check-ups and dental care during the course of the school day.

"I personally take pride in the clinic," says Thomas, "not only because I love my job of working for Dal in a paediatric clinic, but also because North Preston is my home, and to be able to work in the community you grew up in, to me, is a special blessing, a sense of giving back."
Harbour View: giving children a positive dental experience


At Harbour View Elementary School in Dartmouth, back-to-school preparations are also underway after the summer holidays. The clinic serves the children of Harbour View Elementary and students from three other elementary and junior high schools who are bussed in. That is why Janice Ruppert, who manages the clinic, is preparing to send out 500 permission slips. She anticipates that 50 to 60 per cent will be returned.

The community around Harbour View includes more temporary residents than North Preston. The population is low-income with high needs, and there are a lot of single parents. Ruppert explains that most of the children who come to the clinic would otherwise never see a dentist. Many families do not have a vehicle and dental care is not a priority.

The clinic has six chairs and operates four mornings a week. Ruppert, who is a dental assistant, staffs the clinic along with a paediatric dentist from the IWK Health Centre and six to nine second-, third- and fourth-year dentistry students and second-year dental hygiene students. Together they see an average of six children each session, carrying out cleaning, oral-health education, fluoride treatments, fillings, and handing out toothbrushes, toothpaste, and dental floss.

They are also on hand to deal with playground emergencies and unexpected toothaches. Any cases that cannot be treated at the clinic are handed over to the IWK.
A win-win for everyone


Ruppert describes the clinic as a win-win for everyone involved. "The Dalhousie paediatric clinics are the only place the dentistry students will get experience in pedadontics while they are in dental school. So they gain valuable experience that has led some to pursue children's dentistry as a career," she says.

For the children, visiting the dental clinic may be a much-needed opportunity to receive kindness and attention. "If they visited a private practice, they might have a 20-minute appointment. In this clinic, there is time to talk, play with finger puppets, and hear dental stories. We want the kids to be happy to open their mouths for us and to have a positive experience," Ruppert says.

It seems to be working. Ruppert says that the children will be eager to come to the clinic as soon as they are back in school. "Some of them call me 'Dental Clinic' and they will stop me in the hall to ask when they are next coming to have their teeth checked," she says.