Peter Corey (BSc [Agriculture]'01, MSc'12) was disheartened. It was 2008 and the Dalhousie alumnus was touring the fish farms of Businga in the Democratic Republic of Congo. Once sources of sustenance and income for families in this northwestern town, the farms had been abandoned during a horrific civil war that lasted from 1998-2003 and claimed the lives of more than five million Congolese. All the farms sustained now were weeds.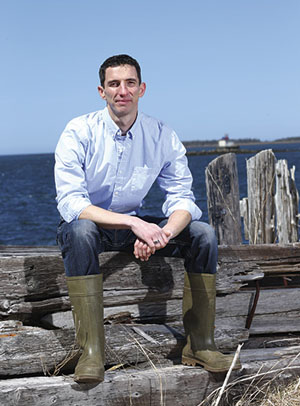 Then Corey saw something that lifted his spirits: a handful of fish ponds that someone had managed to maintain, providing a source of income for a family in one of the world's poorest nations. If one farmer could do this on his own, what, Corey wondered, could the man and his fellow farmers accomplish with some assistance?

"I knew aquaculture could contribute to poverty alleviation in the Congo. I knew it had a good history there and was well accepted. I also knew it wasn't currently supported and that I could help to fill that gap."

Seven years later, Corey has done just that with Fish for Hope, a nonprofit initiative that is helping to revitalize fish farms—and encouraging the startup of new ones—in the republic's Equateur province. Since it launched in 2012, the program has funded training and provided tool subsidies to approximately 700 men and women, giving them a much needed source of nutrition, valuable skills and a steady income.

"One man is using the revenue from his ponds to put his two daughters through college," says Corey. "A family I talked to when I visited the Congo in 2014 said their 10 fishing ponds provide 75 per cent of their livelihood, even though the mother is a school teacher. But many people don't have employment outside of their farms, so the contribution that aquaculture is making to their livelihoods would be higher."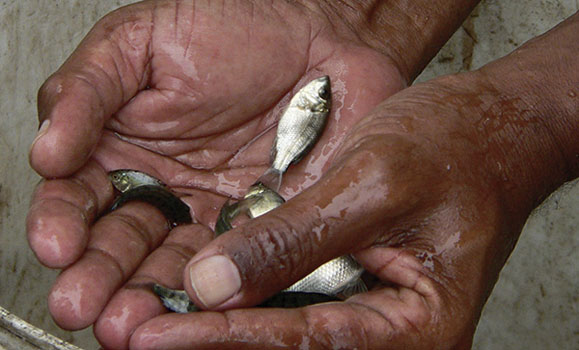 Corey may have been born in the heart of New Brunswick's potato country, but he's had a lifelong interest in fish. It was nurtured in part by his family, who were active in the outdoors and raised fish in a barrel in the basement of his childhood home. Fascinated by their lifecycle, he dreamed of becoming a marine biologist until his brother — a graduate of the Nova Scotia Agricultural College (now Dalhousie University's Faculty of Agriculture) — suggested he look into the relatively new aquaculture program instead.

"I made the decision to enrol with the intention to use the training in international development work—poverty alleviation—somehow. It was a great program in that it honed my research, writing and critical thinking skills. That has come in handy raising funds and building partnerships for Fish for Hope."

Dalhousie's Agricultural Campus has also provided invaluable assistance to the initiative. "Everyone's made meaningful contributions along the way, from moral, logistical and fundraising support to donations of soccer jerseys and books for Congolese communities. I'm very grateful to the campus for their assistance."

Still, it's Corey's faith that has served as the main source of motivation and support in this important undertaking. "I believe it's part of God's design for who we are—to contribute to life. It's incredibly energizing to be fleshing out His design and seeing the impacts of what He has influenced me to do."

It could be said that divine intervention brought Corey to the Congo. He'd been looking for an opportunity to explore small-scale aquaculture as a means of addressing international poverty since completing his undergraduate degree. But nothing panned out until a chance encounter at a church conference with a man who'd spent three years in the Republic. "He said there were thousands of ponds from a fairly ambitious development initiative back in the 80s. That seemed like a viable opportunity, so I made my first visit there."

That was in 2008, when he encountered the weed-covered fish ponds. Although organizations were reentering the Congo to help rebuild infrastructure, Corey realized aquaculture was not a priority. Meanwhile, the farmers he met seemed more interested in financial aid than retraining, and that led him to launch the first Fish for Hope project in Mozambique. When that project wrapped, he made another visit to the Congo and found a growing demand among farmers for new aquaculture training. In 2012, he started a two-year Fish for Hope project in the Equateur province, in partnership with World Hope Canada, a Canadian relief and development organization.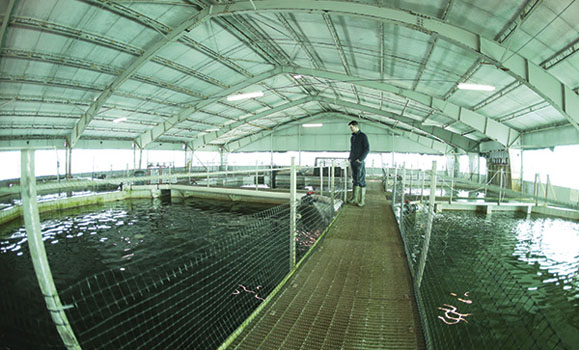 Half a world away, Corey's role is project manager and fundraiser for the training and tool subsidies provided through the program. They are delivered by regional experts and partners. Since he's unable to visit the Congo more than once a year, Corey also relies on his colleagues for reports on the program's success.

"The average report is that pond productivity has doubled as a result of the training and the new practices that farmers are learning. It's a big deal. It's not just a hobby pond in the backyard that you fish a trout and share it with friends. It's a meaningful revenue-generating initiative."

It is also helping to improve equality in what has traditionally been a male-dominated culture. "Approximately 10 per cent of trainees are women, and that involvement was important to us. They are a major part of the family and the household. Through this training, we're influencing family dynamics, helping to reshape the mentality that men control the finances and the property."

Corey renewed Fish for Hope for two more years during his 2014 visit and he's already thinking of a further extension. He may credit his partners on the ground for its success, but if it weren't for Corey's faith and desire to make a difference, 700 Congolese families now earning a living from fish farming would be struggling to survive.

 "I hope my legacy is in part, one of attentiveness to global poverty and food security challenges," says Corey, adding that he appreciates the influence of Dalhousie in shaping that perspective.

"This is what motivates me: making a meaningful contribution to development of the aquaculture sector at home and in support of the world's poor. My desire is to use acquired knowledge, skills and networks in a discipline that I am just generally passionate about. Aquaculture is more than just an occupation for me: it's a purpose."
This article first appeared in the Spring 2015 issue of Dalhousie magazine.