Working 12-hour days, six days a week, for almost four weeks in a row doesn't qualify as a summer break for most people. But that's what Heather Fennell-Al Sayed did this July, and she enjoyed every minute of it.

"You know you love your job when you do this on your vacation!" says Fennell-Al Sayed, an assistant professor in Clinical Vision Science who also practices orthoptics as a member of the IWK Eye Care Team.

Fennell-Al Sayed (BSc'03, MSc'07) went to Malaysia in July as part of an international clinical education team working to transform children's eye care in the Asian country. She was selected by the International Orthoptic Association (IOA) to teach in Malaysia at the Tun Hussein Onn National Eye Hospital & National Institute of Ophthalmic Sciences (THONEH/NIOS), located in Petaling Jaya (outside Kuala Lumpur). She was part of a five-person orthoptic team (including Karen McMain, current IOA president and fellow Dal faculty member) training two young women who will eventually lead Malaysian orthoptic care.
A specialized field

Fennell-Al Sayed is one of only 190 registered orthoptists in Canada. Orthoptists are allied health professionals that specialize in adult and pediatric disorders of binocular vision and ocular motility. Working in close collaboration with ophthalmologists, orthoptists carry out non-surgical treatments for conditions such as amblyopia ("lazy eye"), strabismus (ocular misalignment) and diplopia (double vision).

"Early treatment for children is paramount, as there is often a limited timeframe during which treatment can yield the best outcomes" says Fennell-Al Sayed.  

The demand for orthoptists is increasing worldwide and, at present, only 22 countries have formalized orthoptic services, and even fewer have training programs. One aim of the IOA is to help link up educators from established programs with newer clinical centres worldwide, especially in developing nations.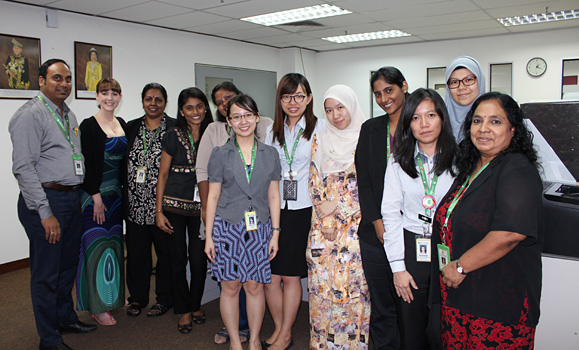 Fennell-Al Sayed's two Malaysian students, Sweet Wei Tan and Renuka Sundram, are recent optometry graduates who are now being trained in the field of orthoptics. They will then provide orthoptic care, alongside ophthalmologists, at Malaysia's only National Eye Hospital, serving  a country of 30 million.

"These two young women are amazing," says Fennel-Al Sayed. "They are the first native Malaysians to take this training in their home country. They are hardworking and dedicated, working full time as clinicians and  completing patient exams in five languages: English, Arabic, Tamil, Cantonese and  Mandarin ... it was very humbling to watch."
Building partnerships

This was Fennell-Al Sayed's first experience working overseas, and it's given her a new appreciation for the education she received and now provides.

"A big difference between our Dalhousie program and Malaysia is the strength of our training here: in the IWK/Dal program, our Clinical Vision Science students are required to see 800 patients over their two years of study. In Malaysia, as part of their optometry training, they see only 100 patients over their four years of school. Another major difference is the "team-based" approach to patient care here in Canada. The Malaysian students were surprised to learn that orthoptists actively work with the pediatric ophthalmologists to deliver effective patient care."

Fennell-Al Sayed says her work in Malaysia may lead to other partnerships. Her two Malaysian students are interested in further orthoptic training, possibly through distance education at Dalhousie. Two other nations, Thailand and South Africa, have also expressed interest in pursuing orthoptic training fellowships.