NunatuKavut is a coastal community in southeast Labrador. Its name means "our ancient land," and its 6,000 or so citizens are direct descendants of Inuit who have lived in the area for centuries.

Earlier this year, members of the Faculties of Health Professions and Dentistry came together to present Oral Health and Indigenous Youth: A Forum for Community Members, Researchers and Policy-Makers. Following a three-year research project funded by the Canadian Institutes of Health Research (CIHR), the event (co-funded by CIHR and the International Grenfell Association) was a culmination of findings to demonstrate the state of oral health in NunatuKavut and develop a plan for the future.

The two-day forum included a film screening, two panel discussions, a knowledge translation showcase and interactive breakout groups. Attendees included representations of community-based partners in NunatuKavut, other interested aboriginal communities, policy makers, dental practitioners and community-based health researchers.

The project is led by Debbie Martin, principal investigator on the project and assistant professor of health promotion in the School and Health and Human Performance at Dalhousie. She was joined in project leadership by co-principal investigators Mary McNally (division head and associate professor in the Department of Dental Clinical Sciences) and Heather Castleden (former Dal faculty member and now associate professor in the Departments of Geography and Public Health Sciences at Queen's University). It also consists of community advisory committee made up of key representatives from NunatuKavut, as well as a research team that include faculty members from Dentistry and the Atlantic Health Promotion Research Centre.
Key findings

The project began in 2011, with the first year consisting of mainly collecting data, visiting schools and family resource centres, and identifying oral health needs of children and youth on the coast of Labrador through oral health assessments. The team then did follow-up interviews with kids, parents and key individuals in the community to develop the best plan of action.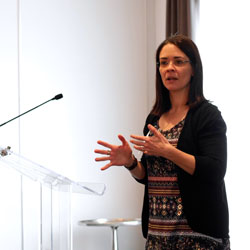 "We walked away with a sense of what needs to happen," says Dr. Martin. "We analyzed that data, presented it back to the community and spoke to some of the people that deliver the services to find out what the gaps were. Through that, we identified three key findings that really shaped how we went about organizing our two-day forum."

The first finding was that youth and their parents expressed a desire to get to know their dental providers better. Since NunatuKavut is a coastal community, there are no dental services provided on a regular basis and dentists fly in and out on a rotational schedule. To address this disconnect, the project brought in filmmaker Jamie Skidmore (also an associate professor at Memorial University of Newfoundland) to work with the youth and create a film, which was screened at the forum. Titled "Knowing me, Knowing you: A message to dental professionals from the youth of NunatuKavut," the film provided a basis for discussion about issues related to dental health access within remote communities.
In the future, the research team will be working with dental professionals and instructors within the Faculty of Dentistry to find creative ways of using the film to highlight young people's opinions and demonstrate what is happening in terms of oral health, for the benefit of future dental practitioners who may be working in NunatuKavut communities.

The second finding was that the lack of community dental services left youth with a limited understanding about dental health itself.

"The youth were really interested in knowing things like how plaque and tartar form on your teeth, how a cavity forms and why dental issues happen the way they do," Dr. Martin said.

To address this, the project has developed a series of fact sheets, blogs and a website and Facebook site that are all aimed at increasing knowledge related to oral health. Last fall, it also employed the help of three second-year Dental Hygiene students from Dal who assisted with the development of oral health tool kits. The kits, developed with community members and divided into several categories (by age and topic) will contain resources and activities focused on sustaining good oral health.

Making connections

The third finding was the need to establish a clear link between nutritious foods and oral health. The second day of the forum included a panel discussion called "Good Food," which discussed the relationships between oral health and nutrition with other chronic health conditions.

"A little bit has to do with choices about the kinds of food that we eat, but perhaps a larger part of the issue is how those choices are often limited in remote communities by availability and cost, as well as restrictions on accessing traditional foods due to fear of contaminants and regulations surrounding hunting and fishing" says Dr. Martin. "There's huge connections between oral health, heart health, obesity and diabetes — and those chronic diseases are of concern in southern Labrador, so improving nutritious food access, while important for oral health, is also important for overall health too."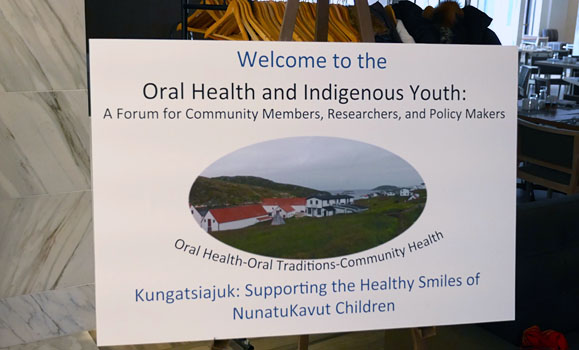 Following the event, Dr. Martin says the project is buoyed by the momentum it has created. The research team is continuing to work on developing and distributing tool kits and deepening collaborations with local nutritionists, family resource centres and other interested community partners in NunatuKavut. She says the most important thing is figuring out where the research can go, and how it can be applied to improve aboriginal youth oral health.

"What we're doing is a community-based health intervention, so we're working with a community advisory committee to say, 'Here's what our data is telling us, and how can we make this work?'" says Dr. Martin. "This was a really opportune time to have the forum because the community are excited to continue to see the research move forward into next steps. There is still room to make progress in terms of oral health, and we're all really excited about working with our community partners to achieve that."