Three minutes is about the length of your average pop song, and pop songwriters often traffic in an old cliché: don't bore us, just get to the chorus.

In other words, when you've only got three minutes to work with, you've got to get right to the point. And that's what more than 40 graduate students did last Thursday at the preliminary heats for Dal's Three-Minute Thesis competition.

Each year, masters and PhD students across the university are invited to take part in the Three-Minute Thesis (3MT) competition as a chance to develop their communications skills. The format, founded by the University of Queensland, is simple: a research presentation, in three minutes or less, with a single static PowerPoint slide and no additional electronic media or props. The judges rate the presentations not on the research itself, but on how well the students communicate their work to a general audience.

"I think it's a real challenge to take complex research and methodology and boil it down into a three-minute nugget," said Marty Leonard, dean of the Faculty of Graduate Studies, in her introduction to the day's first heat. "When I was a grad student, I don't know if I would have had the guts to do it."
Concise insights

Student Tim Cashion, who's working on his masters degree in Environmental Studies, presented his research into the environment and ecological impacts of using fish-based feed in aquaculture.

"I heard some other people in my department do the competition last year, and I was interested in another venue to present my work," he said. "It's all about the challenge of putting it into three minutes."

Justine McMillan, who won the day's first heat, is a PhD student in Oceanography. Her project — "Flow and Turbulence in Tidal Channels with Implications for In-Stream Tidal Power Development" — is about providing better data on ocean turbulence to inform development of tidal power turbines on the ocean floor.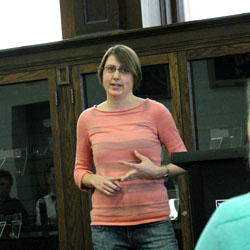 "I did [the competition] two years ago, and I thought it was a good exercise to try and summarize all the work you do in three minutes," said McMillan (left). "I also think that as a grad student, you really need to develop your communications skills. So the more often you get up and present to different audiences, the better."

The second heat of the day was won by Animal Science (Agriculture) masters student Xujie Li, whose project is titled "Hatching Egg Sanitation for Improvement of Storage, Hatchability and Chick Performance."

"For me, the thing is how to conduct a story to attract people's attention to my project," he says, noting that his topic — better ways of ensuring disease-free chickens — isn't something people might think of in their day-to-day lives. "I really want to make those connections."
Learning about the university

Throughout the day, faculty and students filtered through the room to cheer on their peers. In some cases, entire classes of students came to be part of the experience. Anna Maier, an instructor for one of Dal's English for Academic Purposes Courses, brought her class of international students.

"It is important for them to have as many different academic listening opportunities, inside and outside of the classroom, as possible," she says. "Not only did it give them the opportunity to listen to a variety of topics, it also allowed them to get a glimpse of some of the remarkable research which is going on here at Dal."
The attendees weren't the only ones who saw the competition as a fun way to learn about Dalhousie research. The 3MT judges agreed.

"It's so interesting to learn about everything," said Dan Kelley, graduate coordinator in the Department of Oceanography who judged the day's first three heats. "Students get the same experience: we've had students in our department who've done [the competition] and they come back raving about the talks they got to see. It's wonderful for everyone."

All three of the judges for the morning rounds agreed that being able to explain research succinctly is important skill for researchers at all stages of their career.

"I think all of us have to be able to explain our work in three minutes, or 30 minutes, or 300 pages, or three lines," said Martha Radice, associate professor in the Department of Sociology and Social Anthropology. "Being able to scale the language of the research up and down to different levels is a really crucial skill to have."

"One of my professors in my PhD said that the most important version of your thesis is the Quirks and Quarks version," said Janice Moreside, assistant professor in Kinesiology, referring to the popular CBC radio program. "You should be able to go on the radio and tell Canada about it."
Ready for the finals

Now, the seven finalists from last week's heats prepare to face off. The students will present their research Thursday night at 7 p.m. in room 1016 of the Rowe Building. The winner will receive a $1,000 scholarship, with $500 and $250 scholarships available for second and third place respectively.

In addition to Justine MacMillan and Xujie Li, the other finalists competing on Thursday are:
Kristina Keilty (Environmental Studies masters): "Understanding Energy Landscape Values and Baselines of Acceptability on the Mactaquac Dam Headpond, New Brunswick"
William Burt (Oceanography PhD): "The Use of Radium Isotopes to Investigate Boundary Exchanges in Coastal Ocean Systems"
Kala Hirtle (English PhD): "Altered States of Consciousness: Gender, Nineteenth-Century Medical Discourse and Gothic Literature"
Peter Baumeister (Cardiovascular Physiology and Biophysics masters): "Getting Pumped on Heart Disease: The Loaded Truth About Cardiac Mechanical Dysfunction During Acute Regional Ischemia"
Elizabeth Croteau (Industrial Engineering masters): "An Event-Based Model for Scheduling of Aircraft Heavy Maintenance Tasks"