"You are the future, no matter which country you come from to study at Dalhousie."

That's how Fiona Black, associate vice-president academic, addressed students at last month's International Perspectives on Science and Economics student conference.

Each March the conference, now in its fourth year, brings together third-year students in Dalhousie's China Program in Economics, now along with students from Brazil's Science Without Borders Initiative, to share their perspectives on areas such as policy matters, international trade, sustainable development, consumer behaviours and various other topics in science and economics. In total, more than 70 students participated in the conference.
Policy, trade and more

David Packer, director of English as a Second Language (ESL) programs in the College of Continuing Education, delivered the opening remarks and introduced the conference's guest speakers, which included Dr. Black, and Dal faculty members Hong Gu (director of Statistics) and Kuan Xu (chair of the Department of Economics).

"As international students, this is your first step to prosper, to learn, and to succeed," Dr. Xu said to the students. "In your lifetime, you have many small steps. If you can do your best and excel at each step, when you look back at your trail, you will be amazed at what you can achieve."

Following the speeches, students broke into their groups to give presentations on the topics they have been studying throughout the term. For 12 weeks, the students developed their academic writing and presentation skills, which they then used to write their research papers and prepare fifteen-minute presentations for the conference. In total, 35 presentations, prepared and delivered by the students, were held across the Mona Campbell.

The Brazilian students are part of the Science Without Borders initiative from Brazil, a program which finds the Government of Brazil funding 75,000 scholarships to aid in furthering post-secondary education in the fields of science, technology, engineering and mathematics. The Chinese students are part of the 2+2 Joint China Program at Dal, where students spend their first two years of university at a Chinese partner university, and the next two either studying at Dalhousie, or being taught courses in English by Dalhousie recruited faculty while remaining in China.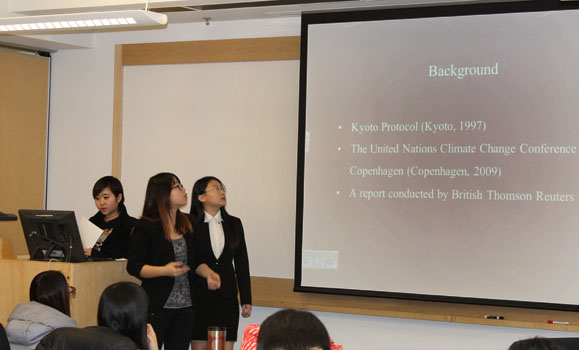 For Polly Chen, a third-year Economics student participating in the 2+2 Program, the experience has been invaluable.

"All of the students in this program are from China and most of them are economics students like I am, so we can study together and share our learning experience together," said Chen. "My classmates are very hard-working, and they encourage me a lot. I also really appreciate the staff in this program. They give me very helpful advice about my study."
Improving language skills


While the program has been extremely rewarding, Chen, along with the other students, face the daily task of working through the language barrier. Although the majority of their native languages are Mandarin or Portuguese, the students are required to learn, speak, write and present in English.

"Sometimes I will feel sort of upset, as it is still possible to get an unsatisfying result when you put in a high level of effort in studying," Chen said.

Guest speakers at the conference also discussed the obstacle of language, and offered their advice in terms of how the students can improve their language training. The key theme was to connect with Canadian students, something that Chen says she does often by attending events put on by the DSU and Dal After Dark.

"My advice to international students is when you get to Halifax, go to the public library, get a library card, and take out books," said Dr. Xu. Read as often as you can, because that's how you're going to learn. This conference is just one example of what you can do. When you learn new things, the entire world is right in front of you."