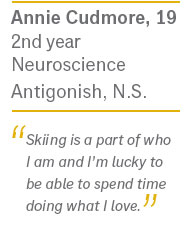 At first glance, you would never know that Annie Cudmore was on the podium for Big Air Skiing at the 2013 Canadian Junior Freestyle Skiing Championships. Easygoing and humble, it's hard to picture her skiing off a 59.1-metre ramp and soaring through the air. But Annie, a second-year neuroscience student from Antigonish, has been skiing competitively for four years.
"My interest in skiing all started after a family ski trip to Maine," she Annie says. "After that my family bought a cottage at Wentworth Mountain, and we started going there every weekend in the winter. I joined the freestyle program at 15. We had gone to a summer training camp in Quebec for my brother, who was already in the program, and his whole team and the coaches told me I should give it a shot so that's what I did!"
Annie started competing at a provincial level in 2011 and qualified in 2012 for the Canadian Juniors in Le Relais, Quebec where she finished in 5th place in Slopestyle and 4th in Big Air. The following year in Apex, B.C. she placed 4th in Slopestyle and won bronze medal in Big Air (her Nova Scotia teammate won silver).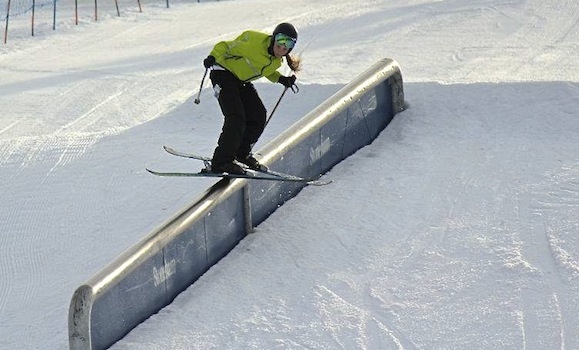 "Slopestyle is my favourite—it consists of a course made up of a number of jumps and rail features where you're scored based on the skill level of your tricks, as well as the overall flow and cleanness of your run," says Annie. "Big Air is simply a large jump that you just throw your best trick off of, and you're scored based on the skill level of the trick as well as the cleanness and how much air you get."
While competitive freestyle skiing has certainly become more popular over the years, it's still largely a male-dominated sport. Annie says a lot of work is being done to get more girls into it, including all-girls camps and competitions, as well as including women's categories in competitions. But there's still plenty of work to be done to get more girls to take up the sport and compete.
"Being considered 'one of the boys' was never a bad thing," she says. "It has definitely had an impact on who I am as a person. I like to think that it has helped me become a more mellow, laid-back skier. My experience as a female competitive skier has been super positive. All of the guys on my team are very supportive and don't treat the girls any different. I do think that girls are still struggling to find their place and make their mark in the sport, but it's definitely progressing really quickly."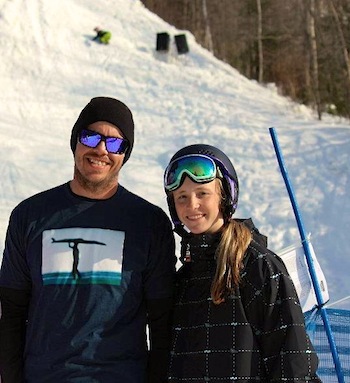 Shifting gears
 
After an ankle injury last year put her out for an entire season, Annie has started to slow down her skiing. Instead, she has started to use her talents to coach younger kids.
"The girls I coach are the coolest little girls around—they're so good!" she says. "Coaching is such a different environment. I have to be much more conscious of what I'm doing and how I'm relaying skills and techniques to my kids. It's helped me look at skiing from a completely different perspective."
Even with slowing down, Annie still goes to Wentworth every weekend during the winter term. She spends her mornings coaching kids in a beginner freestyle group called Jumps and Bumps, and then trains with her team in the afternoons. (She's pictured above with her team coach, Thor Durning.) It's a busy schedule for someone trying to juggle school and skiing, but she makes it works by trying to get as much schoolwork as possible done during the week.
"Then I can just chill and forget about school on the weekends," she says. "I've definitely missed out on some fun events back at Dal on the weekends, but I wouldn't trade the time I get to ski for anything. Skiing is a part of who I am and I'm lucky to be able to spend time doing what I love."
Editor's note: An original version of this story said Annie won a bronze medal at the 2013 Canada Games. She actually won bronze at the 2013 Canadian Junior Freestyle Skiing Championships. The story has been corrected to reflect the error.
Video: Annie's Story
(produced by Tim Mombourquette)