In 1783, the British Army evacuated approximately 3,000 Black Loyalists from the United States to Nova Scotia. In return for serving for Britain during the American Revolution, these individuals were promised freedom, land, tools and food upon their arrival into the province. Many of those promises went unfulfilled.

While their story is a cornerstone of Nova Scotia's history, its details were likely new to many who picked up the award-winning novel The Book of Negroes when it became an international sensation upon its release in 2007. Now, the story is earning new audiences as a CBC miniseries, much of it shot in Nova Scotia, that will also air on BET in the U.S. later this month.

Lawrence Hill, the novel's Canadian author, visited Dalhousie last Thursday to deliver the 2015 Shaar Shalom Lecture entitled "The Book of Negroes: Merging History, Fiction and Adaptation to Screen." Presented in partnership between the university and the Shaar Shalom Synagogue, the lecture touched upon difficult issues of diversity, difference and tolerance in our contemporary society.

"We're obligated to remember such events in history to learn from them and become more tolerant and understanding," said Seth Bloom, a representative from Shaar Shalom. "Our hope is that by focusing on the things we share across different societies, we can increase our understanding of history while engaging in positive change."

While last week's event was part of an ongoing lecture series, Hill is no stranger to Dalhousie. He received an honorary degree from the university last fall and has visited campus several times to discuss issues of race, identity, justice and social change. His latest book, entitled Blood: The Stuff of Life, offers a scientific and social analysis of the history of blood, and its uniting and isolating qualities.
Finding a story's voice

Hill's Book of Negroes, a slave narrative, chronicles the life of Aminata Diallo. A young midwife abducted from her family at age 11 and auctioned off to an indigo plantation, Aminata lands in Shelburne, Nova Scotia on the last Loyalist ship headed to the British colonies in search of opportunity and a better life. The story follows her life's journey until old age, when she is eventually brought to London, England by a group of abolitionists petitioning to end the slave trade.

"I had to ask myself who would best narrate this story, and I decided it had to be someone who had a lot to lose," Hill said. "The hardest thing for me was finding the voice of the woman, Aminata. As a child it was easy, but in her old age it was very hard. I wanted her to experience the greatest possible losses of her life, yet to carry on and become a storyteller."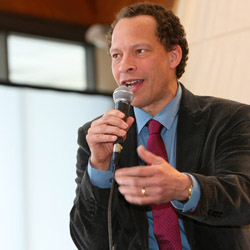 Hill's rendition of the Black Loyalists coming to Nova Scotia was researched and written over the course of five years. He was influenced by several images he saw on his travels, especially a portrait in a museum in downtown Shelburne of a ship arriving into a port in Sierra Leone. Hill also had the opportunity to look at early 18th century maps of West Africa that were European drawn and based more on historical records and speculation rather than fact.
(Left: Hill in Halifax in 2011; file photo, Nick Pearce)

"When they didn't know what something looked like, they would just put an elephant. So there's these holes in the maps and it's very striking," Hill said. These maps went on to play an important role for Aminata in the novel as she attempts to find out her heritage.
Creating the miniseries

In terms of the transition from page to screen, "It's been a journey," Hill said. "It's a constant question of, 'Where does dramatic privilege trump historical accuracy?'"

He's had to make difficult decisions about the role of minor characters in the miniseries, as well as navigating how to portray the manner of violence and human suffering evident in the novel without showing it all in explicit detail. But overall, Hill is pleased with the final product.

"Writers sometimes have to compromise and get on with it," he said. "The story of the Black Loyalists in Nova Scotia is one of great despair and pain. The land that they were promised didn't materialize and the tools to break the land and the food to live off of in the mean time didn't materialize. It was a monumentally oppressive experience for the Loyalists, but we have an obligation to do our best here and now, and to move forward."