When it comes to growing moustaches, Dalhousie's students, staff and faculty are no slackers.
So far this year, 25 Dalhousie teams representing over 400 individuals have contributed to raising over $65,000 for men's health as part of the national Movember campaign.

A huge part of that success is the Rowe Mo Bros and Sistas. Last year, the team raised $33,620, making them the second-ranked university team in all of Canada. Their efforts helped Dal finish as the top Movember fundraising university, per-capita, and as a result the university welcomed Canadian astronaut Chris Hadfield for a campus visit last spring.

This year's Rowe Mo Bros and Sistas have already surpassed that total and then some: as of this publication, they're crossed the $45,000 mark. Not only are they the top-ranked university Movember team in Canada at the moment, but they've raised more than double the amount of their nearest competitor.

Most incredibly, the team is ranked fifth among all Movember teams in Canada — ahead of banks, NHL teams and energy companies.

"Efforts so far have been really great by all parties involved," says Rowe Mo Bros and Sistas co-captain and Dalhousie's Movember campus rep Jeremy Austin-Evelyn. "This year we've tried to be a little bit more strategic in our efforts as far as Mo Bros and Mo Sistas are concerned."
Encouraging participation

Movember aims to create awareness and raise funds for men's health, having participants sport their best 'stache. The campaign has become incredibly popular at universities across Canada over the past decade, with students doing their part to address the stigmas against discussing men's health issues while generating awareness and understanding of men's health in general.

Jeremy explains that the face-follically challenged "Mo Sistas" are often overlooked when people think about Movember, but they're an important part of the Rowe team. "At the heart of it, everyone should have their own reasons [for taking part]," he says — and moustache or not, anyone can register with a Movember team and help raise money.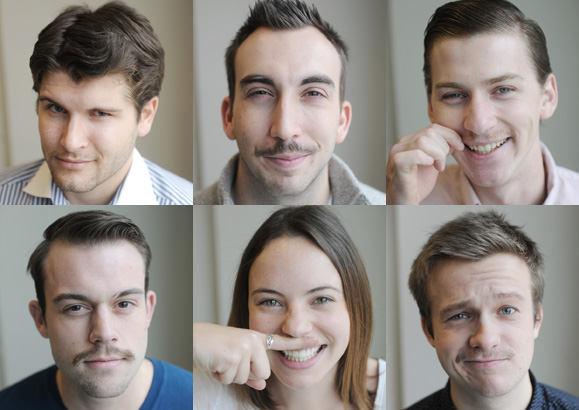 Rowe Bros and Sistas members. Top row, left to right: Connor Ross, Jeremy Austin-Evelyn (Co-Captain), Duane Davis (Co-Captain); bottom row, left to right: Sam Pajot-Phipps, Sam(antha) Day (Co-Captain), James Lewis.
Another goal for the team this year was to get "'stache squatters" off the sidelines and into the fundraising game.

"It's kind of a running joke in the Movember circle that anyone who is growing a mo, but isn't registered, doesn't have a legitimate moustache," explains Jeremy. "They're kind of doing it just for show." He says this year, there has been a big effort to get these illegitimate moustaches registered.

"People should get involved by registering for a team or by themselves," he says. And if they're struggling to raise funds, "emailing friends and family helps a lot," he advises.

Even without a mo', individuals can participate and raise money just by going out to events. Teams across Dalhousie and beyond have an updated list of end-of-month celebrations on the Movember website.
Campus-wide support


Though the Rowe Mo Bros and Sistas are Dal's top fundraising team, there are lots of other groups contributing to the cause. Teams that have raised more than $2,000 to-date include Varsity Athletics, Engineering, Facilities Management and the Schulich School of Law. Almost every Faculty is represented by a team registered on the Movember website, as are many of Dal's residences.

Some teams have turned to well-known moustachioed figures in their faculty. "We have an agreement with Dr. Julio Militzer," says Michael Forsyth, co-captain of the Engineering team. "He's had a moustache forever; even his children have never seen him shaven. So he agreed that once we reached the $1,000 goal, he'll get on stage at the end of the month and get shaved."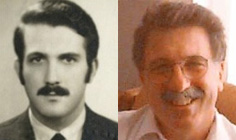 Mission accomplished: Dr. Militzer [left, in 1972 and present day] will have his moustache shaved at a special celebration at in the T-Room this Friday night at 6 p.m. He'll be joined in the shaving by another prof, David Hansen, with the $5 cover charge going towards the Movember Foundation.

Michael says, for him, the goal of Movember is to, "spread the news and awareness of the issues effecting men and their health. And just creating conversation and awareness."
Want to support a Dal Movember team? View all of the university's teams at the Movember Canada website.