Students come to Halifax from around the world, and a popular recent addition to Dal's International Development Studies (IDS) and Canadian Studies programs returns the favour, in a manner of speaking.

It's called "Halifax and the World" — a course that connects Nova Scotia's past and present with its place on the global stage.

The course offers students a starting point in both academic programs. Until last year, there were no 1000 level courses in either IDS or Canadian Studies but, after two years of planning by Erin Wunker (assistant professor, English), John Cameron (associate professor and department chair, IDS), and Claire Campbell (associate professor, History and past director of Canadian Studies) the new course was born, cross-listed between the programs (CANA/INTD 1102 & 1103).

The idea for Halifax and the World began with Dr. Wunker, who wanted to see a class where Halifax was used as the text.

"I wanted Canadian Studies students to have a rich and multifaceted understanding of the lands they were studying on," she says. "It's important they recognise that these ideas taught in the classroom don't happen in a vacuum; they are walking through these histories and their contemporary relevance every day."

Scoping out connections

Dr. Wunker approached Dr. Cameron with the idea and they worked together to make it a reality. "Most introductory courses and textbooks teach IDS as if it something that happens 'over there,'" says Dr. Cameron. "I wanted students to feel so connected to the issues that they walked away almost tingling with the realisation of how deeply implicated they are in global issues that affect people around the world."

Through studying events and phenomena from Halifax's own history, both distant and recent, students explore topics such as marginalisation, inequality, exclusion, hegemony and colonialism. Their gateway into these subjects include the history of Africville, the Mi'kmaq community and Pier 21, amongst many other local communities and sites. (Earlier this term, the class visited Halifax's Citadel Hill National Historic Site.)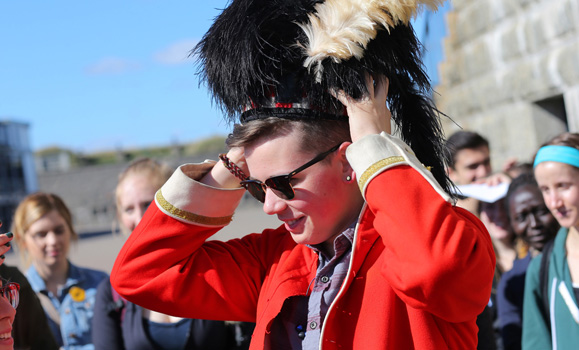 For Caroline Merner, a second-year IDS and Sustainability major, Halifax and the World was her favourite first-year class. "It gave me a sense of the historical context of the new city I was getting situated in," she says. "I find myself using my knowledge from that class constantly in other classes."

Assignments require students to get off campus and interact with the city in ways that students rarely do until later in their time in Halifax, if at all. The final assignment, the "Public Engagemen Project," allows students to share what they've learned by choosing a topic they found particularly interesting and creating a project to engage the public in it, often using installation art, live performances and the Internet.

Voices from the community

Another interesting component of the class is that nearly half the lectures are taught by guest speakers who are specialists in their area, giving students a hugely interdisciplinary experience. "Rather than speak broadly about things we aren't experts in, we bring in members of the community or Skype-in people from across the country that are," says Dr. Wunker.

The class was first taught in the Spring 2013 as CANA/INTD 1100 and then as an X/Y class in 2013/14. This year it is available as 2 half-credit courses, CANA/INTD 1102 (Fall) and 1103 (Winter).