Sixty students gathered on a snowy Wednesday afternoon on April 2 in the Goldberg Computer Science Building's atrium for this year's edition of the Dal App Challenge.

Each year the challenge, sponsored by the Vice-President Academic and Provost's office, inspires students to design apps that could be used by the university or fit a university need.

"The purpose of the contest is multifold," says Alex Brodsky, professor in the Faculty of Computer Science and one of the organizers. "[It's] to generate ideas for mobile apps that Dal may wish to pursue; motivate students to think about how they can improve campus life; get students working with current technologies and acquire new skills; and create opportunities for students to add to their portfolios."

While there's no guarantee that the winning apps will come to fruition, they all offer interesting digital ideas for addressing what their creators identify as campus needs or concerns.
A winning idea for course registration?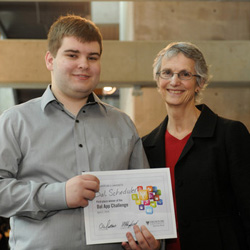 Kyle Ramey, a third-year Computer Science student taking a minor in Commerce, received the grand prize of $750 for his app called "Dal Scheduler." It's designed to improve the course registration process, allowing students to choose courses and put them in their timetable in real time while also detecting course conflicts.

"The best way to plan your schedule right now is to write down all your classes on paper and try to juggle them around; it's just too time-consuming," says Ramey. "I've had the general idea for this app in the back of my mind for some time and this seemed like the perfect opportunity to actually build it."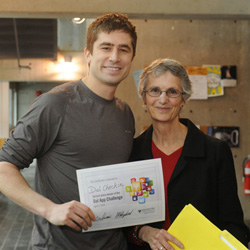 Second place and $500 went to Jeremy Tupper, a Computer Science student in his final year of study. His app, "Dal Check-In," is designed to give course instructors the ability to easily track attendance in an efficient manner.

"My girlfriend was talking to me about how some of her classes still use an attendance sheet to give the students participation grades," he explained. "This is inefficient and easy to cheat and it also frustrated her because sometimes the sheet wouldn't make it around to her."

He decided to make an app to replace the paper attendance sheet and make things easier for both the student and the instructor. He made two apps, one for students and another for instructors to detect which students are near them in class. The app checks in the students that are in class, displays the class list and the current attendance grade on the instructor's phone. 
Community-based solutions

The third place app and the people's choice winner each received $250.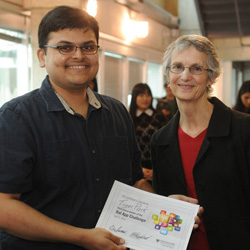 Third place went to Computer Science PhD student Raghav Sampangi for "TigerPark app," a community-based social solution for parking on campus. Students, faculty or staff at Dalhousie using the app can let others know when a parking space (called tiger space) is available and drivers can find a tiger space, navigate to it and use it to report it is no longer available. The app is incentive based, as everyone who reports a parking spot and uses the app receives points that they could redeem for discounts at various campus services.

"I have heard people who own a car face a lot of problems in finding a parking spot," said Sampangi. "Some even drive around the blocks many times to find a parking spot. After thinking through some complicated solutions, I decided to capitalize on the fact that people love to be online and on social media."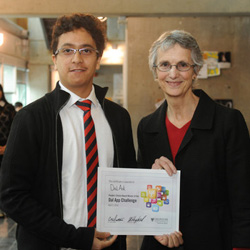 The people's choice award, chosen by students, went to Amr Zokari, a Computer Science student who's also taking a minor in Management. His "Dal Ad" app brings together students who need help with coursework and those who want to assist by allowing students to post ads that represent their different needs and requirements related to their courses. These needs can range from the availability of used books and materials, to looking for private tutoring, to even starting a study group.

"My personal experience served as the building block in initiating this app," says Zokari. "I have been a student at Dalhousie University for three years now and I often encountered obstacles in some of the courses that needed, in my opinion, such an app to overcome."
The first, second and third-place winners were chosen by the competition's judging panel: Carolyn Watters (vice-president academic and provost), Mike Shepherd (dean, Faculty of Computer Science) and Derek Reilly (professor, Computer Science).