Sandboxes: they're not just for Tonka trucks anymore.

On Wednesday, the Province of Nova Scotia announced funding for four new "sandboxes" — collaborative spaces hosted by universities and colleges that will bring together students, mentors and external advisors to take business concepts from idea to execution.

Dalhousie will host two of the four sandboxes, in collaboration with other university and industry partners: an Information and Communications Technology (ICT) Sandbox, to be located in the Goldberg Computer Science Building, and the Nova Scotia Agriculture Sandbox, which will have a location on Dal's Agricultural Campus. Each will receive $150,000 from the province annually for the next three years, and students will be able to begin taking part in the sandboxes this fall.

Sandboxes, originally an IT concept, feature loose structures to encourage collaboration between different disciplines. They support experimentation and connect students with mentors, investors and business leaders in the local community. The concept's success has been proven at universities such as MIT, where sandbox spaces have generated tech innovations including e-ink (used in e-readers like the Kindle and Kobo) and Guitar Hero.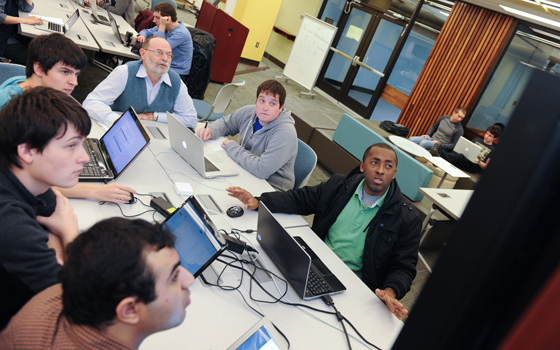 A Dal CS lab, similar to what the ICT Sandbox may look like in terms of space.

Speaking at the announcement at Pier 21, Premier Stephen MacNeil said that the sandboxes will be a place to support "young people and young ideas."
"The announcement today is recognizing that things have to change," said Premier MacNeil, speaking to the recent One Nova Scotia report, "but also a recognition that there are assets in this province that we can collaborate together with to be able to build a better future for the province of Nova Scotia."

The sandboxes are designed to help leverage the human and research capacity in the province's universities and colleges to create new knowledge-based businesses while also providing new opportunities for students.

"We're excited to be partnering with fellow educators, industry partners and the provincial government to give our students a new learning opportunity and a chance to grow our economy," said Dal President Richard Florizone.
Bringing ICT students together

The two Dal-hosted sandboxes build on existing campus expertise: not just in Computer Science and Agriculture, but in business and entrepreneurship more broadly. The sandboxes will tap into Dal's Norman Newman Centre for Entrepreneurship (directed by Ed Leach) and the Starting Lean course, taught by Mary Kilfoil. In fact, Dal's sandboxes will be based around that course's "lean startup" model of developing entrepreneurial ideas.

The first Dal sandbox, the Information and Communications Technology (ICT) Sandbox reflects the increasingly vital role ICT plays in Nova Scotia's economy: not only is it one of the fastest-growing industries in the province, but Nova Scotia boasts the highest level of ICT graduates per capita in Canada. Dal is home to some major research initaitives in the field, from the Institute for Big Data Analytics to the Social Media Lab.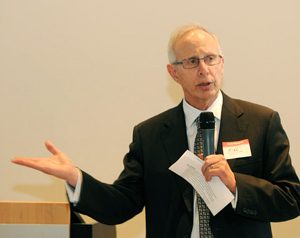 "There's more we can do to catalyze this research, provide new opportunities for students and help support graduates to work and thrive here in Nova Scotia," said Michael Shepherd, dean of the Faculty of Computer Science.

The ICT-Management sandbox pools together skill sets in computer science, engineering, business and design from four different institutions: Dalhousie, Saint Mary's, NSCAD and Volta, a Halifax non-profit that helps connect the partners needed to get startups off the ground. It will be a high-tech space where students can connect with mentors to develop their ideas, and it will also feature regular events, lectures, networking opportunities and other programming.
"There's a lot of appetite for this," added Dr. Shepherd. "The students, they're revved up and ready to go. I think this will be very successful and will add to our Nova Scotia entreprenurial economy."

Agricultural innovations

The Nova Scotia Agriculture Sandbox will work under a similar model. The sandbox is a collaboration between Dalhousie and Acadia University — two universities with campuses connected to rural communities and focused on supporting and growing the province's agricultural economy. Accordingly, the sandbox will have locations in both Truro-Bible Hill and Wolfville.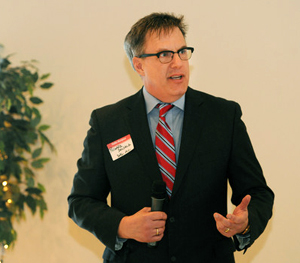 "Modern agriculture is a high-tech industry with expertise required across a multitude of disciplines, from bio-technology, to precision engineering, to computer and environmental sciences," explained Richard Donald, associate dean of external strategic partnerships in Dal's Faculty of Agriculture.

The Nova Scotia Agriculture Sandbox will bring students together across various disciplines with the goal of developing business ideas for the sector — ones that serve local industry while also providing export opportunities for Nova Scotia-based startups. Like the ICT Sandbox, it will also feature events, mentorship and networking opportunities, and other programming to support students.
"It's more than an opportunity," said Dr. Donald, speaking to the sandbox concept. "It's a responsibility."

As the funding for the sandboxes was just announced, many of the details about how they will operate — and how students can get involved — will be fleshed out in the coming months. That said, with the talent available for the sandboxes to tap into, there's no telling what successful ideas students might come up with.

"As over 70 per cent of Nova Scotia's research and development takes place at universities and the NSCC, our ICT and Agricultural sandboxes present a valuable opportunity to help catalyze the intellectual, social and economic development of the province and region," said Stephen Hartlen, Dal's assistant vice-president of industry relations.