More than 50 students from the Rowe School of Business represented Dalhousie at the 2014 Jeux du Commerce Central (JDCC) competition over the weekend — to big results.

The JDCC, featuring over 600 participants from 14 schools, is the largest business competition in Canada. This year's event was held at the University of Guelph — last year's was hosted by Dal — and featured team competitions in the categories of academic, debate, sport and social.

Rowe students managed to come in first place in two of the eight academic categories: Business Strategy (Michael Wilkes, Casey Gallagher & Ben Shilletto) and Management Information Systems (Phill Stanley, Tarah-Lynn Truant & John Wilson). Rowe teams also finished third in Marketing and fourth in Debate.

In the charity events, Dal finished first in two categories: Most Raised and Overall Charity, which combines money raised and hours volunteered. These wins were driven mainly by the Inside Ride and Movember initiatives.
This makes this year's JDCC the most successful ever for Dalhousie.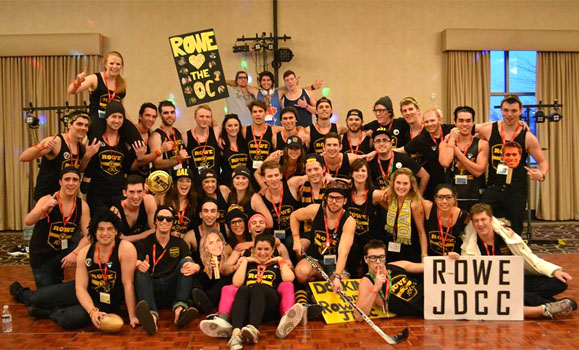 Travelling to this competition is a tremendous undertaking, as students must dedicate themselves to a rigorous four-month training schedule in order to prepare for competition. Academic competitors must undertake an intense three-hour case analysis before pitching their ideas to a panel of top-notch judges.

Students and Faculty participate in the competition on an extra-curricular basis, as it helps prepare students for what they are likely to encounter post-graduation: the necessity to solve complex problems with limited information and significant time constraints. A capstone event, students must incorporate all of their course knowledge to successfully solve the problem at hand.

Team Captains Andrew Murdoch and Kirsten Neuendorff were thrilled with how their team performed. "We're so proud of all our team members for their hard work and dedication," Neuendorff said. "It was such an incredible experience, and it will certainly be one of our most memorable experiences at Dal!"

The team's sponsors included Scotiabank, United Rentals, Eastlink, Protos Shipping, Canadian Tire, RBC GAM, the Dalhousie Commerce Society and the Rowe School of Business.