This article was originally printed in the Winter 2013 issue of Dalhousie magazine. The video files were produced for President Traves's retirement dinner earlier this spring.
For Dr. Traves's reflections on his time as president, read our two-part interview. (Part one, part two.)

When Chris Saulnier, a past president of the Dalhousie Student Union, reflects on the dozens of conversations he has had with Tom Traves on issues as contentious as tuition increases, what he remembers most isn't what Dalhousie's outgoing president said, but what he did.

"He really listened," says Saulnier. "He was conscientious and careful, he treated me with great respect and made sure I understood his point of view."

People who have worked closely with Dalhousie's long-standing president echo Saulnier's description of him as an unflappable force who navigated the complex world of academic governance with quiet strength and incisiveness.  

"As president, you have an incredible constellation of people who have to be kept happy – your board, faculty, students and the community," says Claire Morris, a Traves family friend and the former president and CEO of the Association of Universities and Colleges of Canada. "Tom did it for 18 years, which is a remarkable achievement."  
Video: James Cowan (Canadian senator, former chair of Dal's Board of Governors) and Carolyn Watters (vice-president academic and provost) on Tom Traves



And while President Traves's tenure as one of Canada's longest serving university presidents is a testament to his ability to build consensus and offer strong leadership, his greatest contribution extends far beyond the university he served, colleagues say.

"Tom was the leader of a new, 21st-century approach to running a university," says Senator Donald Oliver, a close friend and former governor of the Technical University of Nova Scotia. "He didn't simply run a university, he ran a big business in Halifax." And this modern, business-like approach to university leadership has had enormous implications not only for Dalhousie, but for universities throughout the region.

"Years ago, university leaders needed a PhD, administration skills and the ability to attract good deans," says Senator Oliver. But in the new economic climate of rising costs and tightening government transfers, he notes that business acumen became a crucial skill set for a modern academic leader. And while today's universities automatically seek presidents who come equipped with business chops, it was a trend that got its start with President Traves, observers say.

"When Tom arrived, the university finances were not in good shape, and morale was low," remembers Bill Black, a Dalhousie alumnus and former CEO of Maritime Life who now serves on the Board of Governors. Recognizing that the two problems were likely connected, President Traves began working more closely with the university's budget advisory committee, a move that has helped to maintain balanced budgets throughout his tenure.

"He is a master of transparency, and put in place a discipline around managing financial issues that is second nature in business, but wasn't as common in the academic world," says Black.
Video: Bill Black (community leader and alumnus, member of Dal's Board of Governors) and Kim Brooks (dean of the Schulich School of Law) on Tom Traves' leadership.



This commitment to transparency also helped to smooth one of the most contentious issues with another important stakeholder group: students. Former DSU president Saulnier points to a tuition consultation policy adopted by the board during the 2011-12 budget process that lays out exactly how students are to be consulted for proposed tuition increases. "It created a much fairer process for students," he says.

President Traves's sense of discipline has also extended into the world of research. "He understood that you can't be good at everything, and worked to bring a sense of focus to research," says Black. Nowhere has this focus been so pronounced as in the area of ocean sciences, where President Traves has looked for opportunities to not only partner on research projects with businesses such as Ocean Nutrition and Acadian Seaplants, but also to use these partnerships to leverage additional research funding from governments eager to support research endeavours that ultimately benefit the local economy.

"Universities had been resistant to that, but Tom understood he had to pay attention to what governments wanted and how Dalhousie could help advance those aims," says Mr. Black.

When President Traves arrived in 1995, research funding was around $36 million annually, a figure that has swelled to almost $150 million in 2012. As well, he led efforts to renew and expand Dalhousie, with mergers with Technical University of Nova Scotia and Nova Scotia Agricultural College occurring under his watch, the addition of the Dalhousie Medicine program in Saint John, and four new faculties and 13 new buildings on campus.

This growth in enrollment, research capacity, faculties and real estate has had enormous implications on the academic life of the university, says Dr. Chris Moore, dean of the Faculty of Science. "He has extended the university's reach and enabled Dalhousie to play on a larger scale." This in turn has helped to attract not only students, but also faculty of the highest calibre, says Dr. Moore. The growth of the university and physical transformation of University Avenue under President Traves "sends a message that this is a place where things are happening," says Dr. Moore.

President Traves's ability to balance budgets, build research capacity in key areas and improve relationships with major stakeholder groups such as governments, other universities and the business community has boosted enrollment and strengthened Dalhousie's position nationally, says Gail Tomblin Murphy, a professor in the School of Nursing and a member of the Board of Governors.

And through it all, President Traves has maintained a strong personal connection with staff and students. "I feel like I know my president," says Dr. Tomblin Murphy. "And that has been a great honour."
See also:
Reflecting on 18 years at the helm: Our in-depth Dal News interview with Dr. Traves (part one, part two)
A president's advice to himself
We asked President Tom Traves what counsel he would have offered to himself on his first day on the job 18 years ago. His words provide guidance that applies well beyond a president's office.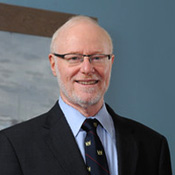 Looking back, I would have said six things:
Focus on the big picture, develop an annual plan with measurable outcomes of success and don't sweat the small stuff.
Communicate your key messages repeatedly and everywhere you go. It takes time for new thoughts or expectations to sink in for large groups of people.
Celebrate colleagues' achievements and use their examples to set clear aspirations for everyone.
Get out a lot and get to know people. You need to develop a network of people whose views you respect and listen carefully to what they say about Dalhousie and the job you're doing.
Remember that the president largely operates by persuasion, so keep your message clear and always enhance the moral authority of your office by clearly acting in the best interests of the university.
Have fun. This job is a once in a lifetime opportunity, so just do your best and enjoy the pleasure of working with great people in a wonderful cause