The gas guzzlers took a back seat to the electrical age last week on Dalhousie's Sexton campus.

More than 50 students and community members gathered to get a closer look at a small fleet of electric cars. The vehicles came from a number of different places: some from faculty at NSCC, others from local dealers and one from DHS Engineering, a private consultancy firm at which Dal prof Lukas Swan is vice-president.

"These cars allow us to start taking advantage of renewable that we're generating," explained Dr. Swan, assistant professor of Mechanical Engineering and principal investigator at Dal's Renewable Energy Storage Laboratory.

"For example, a conventional gasoline car, its oil comes from all sorts of places all around the world. We have less control over it and we have to spend money outside of the province to get it. Whereas here we have wind turbines in the province generating electricity that's used to fuel this car."
Taking a test drive


Dr. Swan organized the rally to let students in his classes — as well as other Dal students and community members — get an up-close look at the cars. The attendees not only got to take a peek at the cars' interior workings but were able to take the cars for short drives around campus.

"We do all sorts of interesting research here at Day," said Dr. Swan. "I have 10 years of automotive research with battery electric vehicles, and there are others like Jeff Dahn doing research in the field here on campus as well. So what I like to do is bring things from the research realm into the classroom and tell our students about the unique work being done."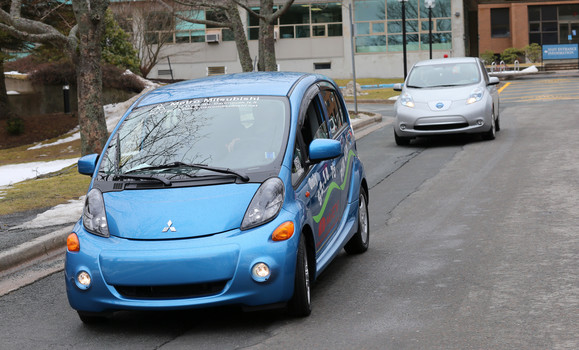 The students said they appreciated the chance to get a closer look at the vehicles.

"Dr. Swan was teaching our guest lecture today for Energy Conversion Systems today," said fourth-year Mechanical Engineering student Patrick Korhonen."I have a lot of personal interest in renewable energy and clean energy. Dr. Swan is very enthusiastic about that; he's kind of a leader at our university. So if he says to come out, it's worthwhile."

"In the lecture, we were learning about exactly how they work, so now we get a chance to actually take a look at them up close," said fellow Mechanical Engineering student Siobhan Carter.
Bridging passion and purpose


Electric vehicles are a personal and professional passion for Dr. Swan. He drives a Nissan Leaf to and from his home in Lawrencetown each day and, in addition to his years of consulting work, he researches advanced energy storage at Dal.

"I'm an energy engineer, so I take it upon myself to learn about how I consume energy, personally, and how we as a broader public consume energy. And it's astounding how much we use, and how much power we pull. So I look for ways to mitigate that, to reduce that consumption and then displace that convention fossil fuel generation with alternatives such as renewable electricity generation."

He also acknowledges that transportation has been a harder nut for society to crack, in terms of renewable energy, than some other areas, but that it's an important one.

"We can put up wind turbines and they feed electricity in your house and, lickety-split, you're ready to go. Transportation right now is almost entirely driven by gasoline and diesel. We need a way to get away from that... These cars come with a few limitations, but on the whole they're tremendous. The vehicles are fast, they handle well, they're smooth, quiet, they have no odour, lower maintenance."

Dalhousie has plans to install two electric vehicle charging stations on campus: one at the under-construction Dalhousie Ocean Sciences Building, and the other on Sexton Campus.