Elisabeth Mann Borgese once referred to herself as "the guest who stayed forever."

After all, the German-born scholar and founder of the International Ocean Institute (IOI) had only planned to come to Halifax in 1979 for one year. She quite reasonably expected that her groundbreaking work in maritime law and policy would take her elsewhere when her Killam Fellowship at Dalhousie was up.

Maybe it was the people here, or perhaps it was being able to live every day next to the ocean. Whatever the reason, Ms. Borgese called Nova Scotia and Canada her home for  the rest of her life. Over the next 25 years, she became a citizen, worked as a professor in the Department of Political Science at Dal, travelled the world to continue her work, and was awarded the Order of Canada.

This is how Ms. Borgese is known in Halifax, but in her homeland of Germany—from which she was exiled as a teenager when Hitler came to power in 1933—her name is more often associated with that of her father, Nobel Prize-winning author Thomas Mann. In fact, her family is a point of national interest.

"Some say, since we don't have any royalty anymore, we have the Mann family, who are like the Windsors of the Germans," explains Holger Pils, director of Lübecker Museen's Buddenbrookhaus in Lübeck, Germany. "About every month, there is a book appearing on the Mann family."

Buddenbrookhaus attracts 60,000 visitors each year to the Mann estate, and is both a permanent exhibit and memorial to the family. Three of Thomas Mann's children—Erika, Klaus and Golo—were also famous authors, as was his older brother Heinrich.

The Drama of the Oceans

But it was Elisabeth that brought Mr. Pils and research staff member Karolina Kühn to Dalhousie last week. The museum is preparing a feature exhibit titled "Elisabeth Mann Borgese and the Drama of the Oceans," set to open this June, and the largest collection of her papers and letters is located here in the University Archives and Special Collections. Ms. Kühn will be in the archives for the next couple of weeks, sorting through Ms. Borgese's files.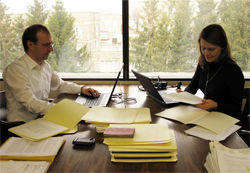 "You find a lot of papers on her professional life, about the International Ocean Institute, about her work at Dalhousie University," explains Ms. Kühn. "But there are also family letters, a lot of photos, and more. We're really working to link her professional life and the themes she approached, on the one hand, with her life here in Halifax."

"We're trying to explain the link between her biography and her professional work – what happened in the course of her life and career that led her to dedicate her life to this cause," adds Mr. Pils.

"A remarkable life"


Believing that the oceans were the common heritage of mankind, Ms. Borgese established the International Ocean Institute in the 1970s, which has grown today to include 25 centres around the world. Her work was critical in the United Nations Conference on the Law of the Sea, and she remained a passionate advocate for the oceans until her death ten years ago.

After it opens in Lübeck, the exhibit will move to Kiel, and Mr. Pils says that they're also looking at possibly bringing it to Halifax sometime in 2013, sharing Ms. Borgese's story with the people who knew her here in Canada.

"She really was a pioneer, a utopian in some ways, but she linked these aims with real politics, to policy and hard work. And she pushed that process ahead for 30 years. She lived a remarkable life."