En route to Halifax from Congress 2011 in Fredericton, historian Jerry Bannister decided to detour to the Joggins Fossil Cliffs.  It was his family's first visit to Joggins, a UNESCO World Heritage Site.

"The tide goes out and the beach ends and there we are literally walking along the ocean floor, touching fossils and taking photos," says Dr. Bannister, associate professor of history.

Scholarship complements work of scientists

The unique pedagogical experience left him feeling more optimistic about rural Nova Scotia. The visit also reinforced the coastal aspects of oceans research in his mind.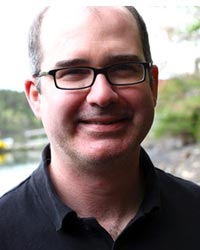 "We need a comparative, inclusive perspective. I believe this will be the most productive way to approach the oceans. Our work complements that of the scientists, and we ignore community stakeholders at our peril," he says. "The oceans are also social and political organisms — they are negotiated and contested. For historians, oceans are the highways and crossroads where globalization begins."

As a Newfoundlander who was raised next to the ocean, he points out that in terms of geography, Nova Scotia and Atlantic Canada are central to the highway that is the ocean.

International scholarship on the Atlantic world is diverse and thriving. Humanities researchers explore social inequities such as the unfree migration of convicts, slaves and indentured servants. Significant scholarship has been dedicated to the revolutionary Atlantic, and the role of oceans in the American, French and Haitian revolutions. An emerging field explores what could be called the counter-revolutionary Atlantic, looking at ways oceanic connections contributed to the maintenance and longevity of empires.

"Many colonies did not join the revolutionary movement and this research shows how Canada fits into the broader  Atlantic world," says Dr. Bannister. The Loyal Atlantic: Remaking the British Atlantic in the Revolutionary Era, which he co-edited  with Liam Riordan, a professor at the University of Maine, will be published by the University of Toronto Press in  late 2011.

"It is a myth that Canadian history is boring. We have no trouble attracting graduate students," says Dr. Bannister. "Dalhousie has a responsibility to help ensure that research in maritime history is done in this region."

Dalhousie is a leader in oceans research in an historical context. Dr. Bannister notes the Department of History continues to build on the strong foundation provided by scholars such as Judith Fingard, Michael Cross, David Sutherland, and Jack Crowley.

As the graduate studies coordinator, and seminar professor for 'Popular Culture in the Atlantic World, 1650-1850,' he notes emerging scholarship on Atlantic history by the next generation of researchers.

Recent PhD theses in Atlantic history include:  "L'Acadie Trouvee: Mapping, Geographic Knowledge, and Imagining Northeastern North America, 1710-1763," by Jeffers Lennox; and "North Atlantic Press Gangs: Manning the Royal Navy in Nova Scotia and Newfoundland, 1749-1815," by Keith Mercer.

"The Captain's Style of Command: Life and Labour on board Nova Scotia Whaleships, 1827-1846," by Thane Ehler; and "Nova Scotia's Spencer Island Company, 1880-1895: A Case Study in Post-Confederation Entrepreneurial Success," by David Stanley are recently completed MA theses.

'Voracious appetite'

After their Joggins experience — appealing for a family with ages three to 42 — he's optimistic about other opportunities available in rural Nova Scotia.
 
"Hopefully Grand Pré will have the same experience," he says.

Grand-Pre, an Acadian community located on the Minas Basin, is Canada's first designated Historic Rural District. A proposal is being prepared for UNESCO with the hope of being designated as a World Heritage Site in 2012.
 
"We see a voracious appetite in the public to know our maritime past," says Dr. Bannister