Far from last weekend's Oscar hoopla, four Dalhousie students walked their own red carpet on Wednesday; not to model the latest fashions, but to put their own generosity and altruism on display.
But it's tough to be in the spotlight and hear your accomplishments recited in front of a crowd. More than one of Governor Award winners responded with a modest, "It's an honor just to be nominated."
"It's nice, but slightly embarrassing too," says Andrew Sullivan, one of four Dalhousie students awarded the prestigious honor at a reception yesterday in the Rowe Management Building. Other student leaders honored were Graham Carey, Jason Pooley and Jessica Roy.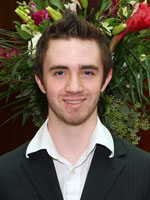 Graham Carey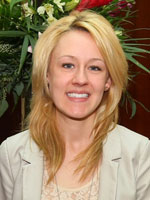 Alexis Pooley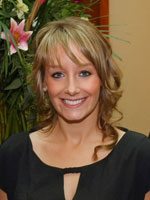 Jessica Roy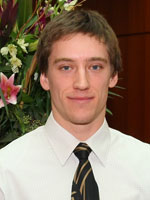 Andrew Sullivan 
The Governor's Awards were established in 1992 to mark the 125th anniversary of the Dalhousie Student Union. They recognize outstanding students involved in university governance, community service, athletics and leadership.
After introducing each student in turn and listing their extensive accomplishments, President Tom Traves stopped to catch his breath and reflect. "We are really blessed at Dalhousie to attract such gifted and giving students," he said.
First up the red carpet was Graham Carey, a fourth-year science student majoring in chemistry and physics. From the Head of St. Margaret's Bay, Mr. Carey balances academic excellence (he was Dalhousie's nominee for a Rhodes Scholarship) with outstanding leadership and a strong commitment to sustainability. He's also active in the residence community at Dalhousie and serves as a senior residence assistant in Mini Res.
"I love being in an environment where I can work and live here at Dalhousie and help other students make the transition to university life," he said.
With her brother away on a co-op placement in New York City, Alexis Pooley was happy to accept a Governor's Award on behalf of her big bro Jason, a masters of architecture student. Afterwards, she confirmed everything Dr. Traves said about Jason, who was described as enthusiastic, energetic, conscientious and reliable. Some of his activities at Dalhousie include being a senior residence assistant, president of the Architecture Students Association, an organizer with GuluWalk and a volunteer with Camp Triumph.
"Everything they said about him is his character through and through," she remarked. "He's so inspiring and just wonderful."
Jessie Roy, recently returned from Mississippi where she worked on a Habitat for Humanity build with 150 other Dal undergrads, was the third recipient of a Governor's Award. Besides her involvement with Dal Habitat, the fourth-year biology student is the founder of Dal SOS, a student society which organizes tutoring sessions and raises money for charity.
"It's hard to be the centre of attention," admitted Ms. Roy, from Canning, N.S, adding that she works with many other students to be able to do everything she does. "At the same time though, listening to all that, it gives me a chance to say, 'Wow, I did do a lot at Dal!' I can't believe I did all that stuff."
Andrew Sullivan is hoping good things come in threes. As well as winning a Governor's Award, the environmental engineering student picked up his iron ring last Saturday. Could an AUS basketball title be next? A member of the Dal Tigers basketball team, he's bound for Sydney, Cape Breton as AUS defending champs.