Executive Director - To be staffed
Program Manager - Asher TRIM-GASKIN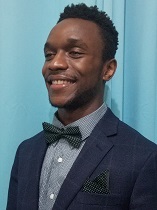 Asher hails from the beautiful island of Barbados. His leadership qualities emerged as a delegate of the Global Youth Leadership Conference as an early teen. He is an avid sportsman--having represented the island in swimming and rubgy and he is a 23-year classical violinist--10 of which were spent as first violin in the Barbados National Youth Orchestra. In 2017, he graduated with a Bachelor of Science degree in Biology with a Certificate in Genetics from Dalhousie University. During his time at DAL he was President of the Caribbean Connection Student Society for two consecutive years and more recently, he was a Teaching Assistant for second-year Genetics and Diversity courses. To further satisfy his love for community development and leadership, Asher leads a youth group and plays violin in the band of his local church Deep Water. The 2018-2019 program year was Asher's first year as the ILA Program Manager.
Contact:
Phone: 902-494-4037
Email: asp.imhotep@dal.ca or vsp.imhotep@dal.ca or fll.imhotep@dal.ca
Project Engineer - Nikita WAMBYAKALEY
Outreach and Communications Officer - Benjamin OFOSU-ATUAHENE
Interim Executive Director and Financial Administrator - Wanda L. COLLEY

Wanda Colley was born and raised in Beechville, Nova Scotia. She earned her Bachelor of Commerce (Accountancy) from Concordia University, Montreal, PQ; and a Diploma in IT and Computer Studies from Mount Saint Vincent University, Halifax, NS.

She is a self-published author of poetry and creative non-fiction, and has experience in systems development and support, financial management, and web development.

She has been honored to witness and to contribute to ILA's growth.
Contact:
Phone: 902-494-4402
Email: admin.imhotep@dal.ca
Virtual School Program (VSP)
VSP Tutor - Ansam ABUSWER
VSP Tutor - Ikeoluwa ADBELO BELLO
VSP Tutor - Andre HENDRICKS
ASP Mentor - Maddin LAFFIN-SANTIAGO
VSP Tutor - Patrick NNOKA
VSP Tutor - Kamy ROBERGE CARRINGTON
After-School Program (ASP)
ASP Coordinator - Faidat OLATUNBOSUN
ASP Coordinator - Richard POPOOLA
ASP Coordinator - Brenda WAMBUI
ASP Coordinator - Success WOKILI
ASP Coordinator (French) - Ariel PROVO
ASP Mentor - Rhandi FERGUSON
ASP Mentor - Maddin LAFFIN-SANTIAGO
ASP Mentor - Kayler MUTYABULE
ASP Mentor - Afisemi NGEI
ASP Mentor - Oluwakemi OLAROTIMI
FIRST LEGO League Program (FLL)
FLL Mentor - Mac Thyrvaal GIRARD
FLL Mentor - Sungwoo SONG
FLL Mentor - Oluwatobi OSHIKOYA
ILA Coding Program (iCO)
ILA Coding Coordinator - Olashile ADEBIMPE
ILA Coding Mentor - Bimpe AYOOLA
ILA Coding Mentor - Chiyedza MUGAVAZI
2021-2022 Student Internships
Summer Programs Coordinator - Olufolakemi "Fola" AKPAN
Activity Developer (Fall) - Amal FASHIR
Logistics Officer (Fall Co-op) - Mark ANGBAZO
Logistics Officer (Winter Co-op) - Chidiebere EDDY-OKAFOR
Activity Developer (Summer) - Tobi ADEOYE
Activity Developer (Summer) - Sinmisade AYANTOYE
Activity Developer (Summer) - Damion POLLARD
Exhibition Assistant (Summer) - Kayler MUTYABULE
Sprouting Science Facilitator (Summer) - Leah MUNROE
2022 Summer Scholar Program
Summer Scholar Mentor - Jasmin DESMOND
Summer Scholar Mentor - Sydnie PARIS
2021 Encouraging Vaccine Confidence Project - July 2021 to February 2022 / Renforcer la confiance à l'égard des vaccins au Canada - juillet 2021 à février 2022
Project Manager / Lead Developer - Haley MATTHEWS
Developer/Mentor (English) - Danika KNIGHT
Developer/Mentor (English) - Elizabeth NKRUMAH
Mentor (English) - Tori EBANKS
Mentor (English) - Renayre FORBES
Mentor (English) - Ibiene "Naomi" IBIAMA
Développeur/Mentor-Français (Developer/Mentor-French) - Ariel PROVO
Développeur/Mentor-Français (Developer/Mentor-French) - Sophie SAAD
Mentor-Français (Mentor-French) - Manda TCHONLLA
Vidéaste (Videographer) - Ugo ONYEKWERE
French Translation Project
Educational Materials Developer - Damion POLLARD
Young, Gifted & Black Future Physicists (YGBFP) Initiative
Project Manager - Haley MATTHEWS
Educational Materials Developer - Yingjun CHEN
Research Assistant - Ibiene "Naomi" IBIAMA
FUN Camp Mentor/Chaperone - Ekene EDDY-OKAFOR
FUN Camp Mentor/Chaperone - Taja SCRIVEN
FUN Camp Chaperone - Keith CHIPARE
FUN Camp Chaperone - Jesimiel UGBEBOR