Executive Director - Sidney A. IDEMUDIA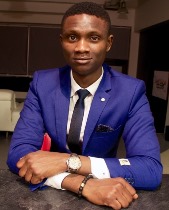 Sidney is a Nigerian who emigrated to Canada for an undergraduate education. He graduated from Dalhousie University with a Bachelor's Degree in Materials (Metallurgical) Engineering. He has hands-on experience in project management, team leadership, fundraising and strategic decision-making. He has also been an active volunteer within the broader community and enjoys engaging in activities that act towards his personal development. He is highly involved with sporting activities to strengthen his mind, body and physique. Through his school training and past experiences, Sidney provides Imhotep's Legacy Academy with a positively interactive work environment and brings a high level of professionalism to its operations.
Contact:
Phone: 902-494-7884
Email: imhotep@dal.ca or director.imhotep@dal.ca
Program Manager - Asher TRIM-GASKIN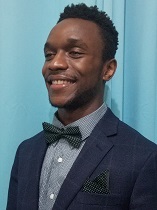 Asher hails from the beautiful island of Barbados. His leadership qualities emerged as a delegate of the Global Youth Leadership Conference as an early teen. He is an avid sportsman--having represented the island in swimming and rubgy and he is a 23-year classical violinist--10 of which were spent as first violin in the Barbados National Youth Orchestra. In 2017, he graduated with a Bachelor of Science degree in Biology with a Certificate in Genetics from Dalhousie University. During his time at DAL he was President of the Caribbean Connection Student Society for two consecutive years and more recently, he was a Teaching Assistant for second-year Genetics and Diversity courses. To further satisfy his love for community development and leadership, Asher leads a youth group and plays violin in the band of his local church Deep Water. The 2018-2019 program year was Asher's first year as the ILA Program Manager.
Contact:
Phone: 902-494-4037
Email: asp.imhotep@dal.ca or vsp.imhotep@dal.ca or fll.imhotep@dal.ca
Project Engineer - Nikita WAMBYAKALEY
Outreach and Communications Officer - Benjamin OFOSU-ATUAHENE
Program Assistant - Sonia El-HUSSEINI
Financial Administrator - Wanda L. COLLEY

Wanda Colley was born and raised in Beechville, Nova Scotia. She earned her Bachelor of Commerce (Accountancy) from Concordia University, Montreal, PQ; and a Diploma in IT and Computer Studies from Mount Saint Vincent University, Halifax, NS.

She is a self-published author of poetry and creative non-fiction, and has experience in systems development and support, financial management, and web development.

She has been honored to witness and to contribute to ILA's growth.
Contact:
Phone: 902-494-4402
Email: admin.imhotep@dal.ca
Virtual School Program (VSP)
VSP Tutor - Ansam ABUSWER
VSP Tutor - Ikeoluwa ADBELO BELLO
VSP Tutor - Andre HENDRICKS
ASP Mentor - Maddin LAFFIN-SANTIAGO
VSP Tutor - Patrick NNOKA
VSP Tutor - Kamy ROBERGE CARRINGTON
After-School Program (ASP)
ASP Coordinator - Faidat OLATUNBOSUN
ASP Coordinator - Richard POPOOLA
ASP Coordinator - Brenda WAMBUI
ASP Coordinator - Success WOKILI
ASP Coordinator (French) - Ariel PROVO
ASP Mentor - Rhandi FERGUSON
ASP Mentor - Maddin LAFFIN-SANTIAGO
ASP Mentor - Kayler MUTYABULE
ASP Mentor - Afisemi NGEI
ASP Mentor - Oluwakemi OLAROTIMI
FIRST LEGO League Program (FLL)
FLL Mentor - Mac Thyrvaal GIRARD
FLL Mentor - Sungwoo SONG
FLL Mentor - Oluwatobi OSHIKOYA
ILA Coding Program (iCO)
ILA Coding Coordinator - Olashile ADEBIMPE
ILA Coding Mentor - Bimpe AYOOLA
ILA Coding Mentor - Chiyedza MUGAVAZI
2021-2022 Student Internships
Activity Developer (Fall) - Amal FASHIR
Logistics Officer (Winter Co-op) - Chidiebere EDDY-OKAFOR
Marketing Specialist (Winter Co-op) - To be staffed
2021 Encouraging Vaccine Confidence Project - July 2021 to February 2022 / Renforcer la confiance à l'égard des vaccins au Canada - juillet 2021 à février 2022
Project Manager / Lead Developer - Haley MATTHEWS
Developer/Mentor (English) - Danika KNIGHT
Developer/Mentor (English) - Elizabeth NKRUMAH
Mentor (English) - Tori EBANKS
Mentor (English) - Renayre FORBES
Mentor (English) - Ibiene "Naomi" IBIAMA
Développeur/Mentor-Français (Developer/Mentor-French) - Ariel PROVO
Développeur/Mentor-Français (Developer/Mentor-French) - Sophie SAAD
Mentor-Français (Mentor-French) - Manda TCHONLLA
Vidéaste (Videographer) - Ugo ONYEKWERE