Robin Parker
Evidence Synthesis and Information Services Librarian, WK Kellogg Health Sciences Library, Dalhousie University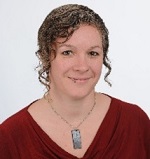 Has serendipity played a role in your career? The fact that I decided to become a librarian at all was a bit of serendipity. When I needed to change careers, I spontaneously decided to pursue librarianship based on a few coincidental mentions at the point when I was making a decision. I took those coincidences and ran with them!
In your professional life, do you consider yourself to be a systems thinker? Someone who thinks outside the box? Does this carry over into your personal life? I tend to see the bigger picture and am driven to try to come up with solutions that will help build efficiencies and creatively address any barriers to delivering the best possible information services. 
What skill is most in-demand for people entering the field today? In my domain of health sciences librarianship, research skills, and especially expertise in conducting comprehensive searches for knowledge synthesis research, are particularly valuable in the current environment.
Words of advice for MLIS students? Is there anything you wish you had known when you entered your professional that would be helpful to someone entering it today? My advice to MLIS students is to be very involved during your studies. Participate in research, engage with student associations and the student-led journal, volunteer at the IWB conference; these are the experiences that you will be able to draw on in the workplace and give great fodder for handling interview questions. 
Career tips for emerging professionals? Stay engaged! Working with colleagues, the community, and the broader society to keep yourself tuned to what is important, the direction of popular opinion, trends in technology, etc. will mean that your job stays relevant and exciting!