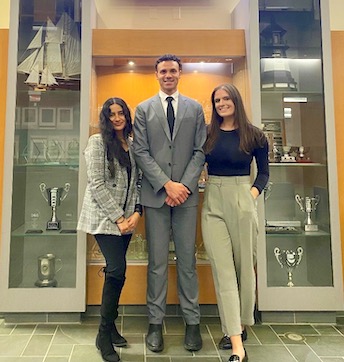 Earlier this month the annual Rumble in the Rowe case competition took place, open to all Dalhousie students in the fourth-year Commerce program and all students in the MBA program.
The theme of this year's competition was Equity, Diversity, and Inclusion. Each of the five teams was given an hour and fifteen minutes to read the assigned case and create a presentation pitching their solution to the competition judges. This year's panel included assistant professor Dr. Anika Cloutier, assistant professor Dr. Richard King, and interim director of the Rowe School of Business Dr. Binod Sundararajan. Students were given ten minutes to present followed by a question period.
Congratulations to the 2022 winners: Julia Arsanious, Daniel Race and Katrina Sokolowski (pictured). A big thank-you to Commerce Society members Margaret Purkiss and Mauraine Bos and MBA Society members Francesca Hawkes and William Warren for organizing the competition.