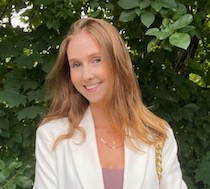 Fourth-year Bachelor of Management student Gillian Kirk chose the Bachelor of Management program at Dalhousie because, as an Ontario native, she wanted to experience a new city and she felt that the eight-month co-op was a big opportunity. The structure of the Management program allowed Gillian to explore several different areas of business such as accounting, finance and marketing while gaining key work experience.
Gillian is currently finishing up her eight-month co-op as a sales intern with PepsiCo in Toronto. While PepsiCo is a big partner with Dalhousie's co-op programs, Gillian was able to secure her co-op through networking. When she started the internship seminar course Gillian began her own research into different companies and careers through networking and information sessions. Through this process, an conversation with a family friend who works at PepsiCo turned into an internship opportunity. Gillian has thoroughly enjoyed her experience at PepsiCo and was offered a full-time position to join their Sales Leadership Program upon graduation in May. The Sales leadership Program was created specifically for new graduates to kickstart their career by gaining early responsibility and leadership skills. Gillian is looking forward to working with set retail customers to drive product volume, execute sales strategies and achieve sales targets in her assigned working territory.
In Gillian's downtime she enjoys exploring Halifax by going on walks and trying out different restaurants and cafés all over the city. Her favourite place for her daily walk is Point Pleasant Park. The scenic trails make it the perfect spot—the cute dogs are an added bonus. Gillian's two favourite study spots are the Weldon Law Building and the Killam Library—Weldon for its convenient location and beautiful windows and Killam for its quiet studying energy and stunning architecture.
Gillian's advice for current and incoming Management students is to take advantage of the optional eight-month work term. Gillian feels the experience she gained was invaluable and has helped prepare her for the many challenges she will face when she graduates. Gillian's advice in regard to networking is to reach out to as many people as possible, "Be a sponge and just soak it in and you never know where that will take you. Just simply learning about someone could mean a connection to someone else who could be an opportunity for the start of your career."