News
»
Go to news main
Getting connected: Noah Innes
Posted by
Nicole Maunsell
on June 16, 2021 in
News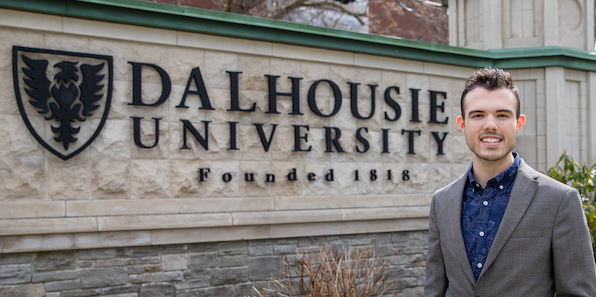 Marketing Management major Noah Innes is a people person. During his time at Dalhousie, he's made lasting friendships and professional contacts and did the networking that helped him secure his first full-time job. "The people I met in first year are the people I stayed friends with throughout the degree," he says. They were a huge source of support."
Noah grew up in Halifax and chose Dalhousie in part because his parents and sister were Dal alumni. "Halifax has grown so much, it's turning into the kind of city I want to live in," he says. The mandatory co-op work terms in the Commerce program were also a draw. "I like that it's so well integrated into the program, and you still graduate in four years."  
Noah did co-op terms with Royal Bank, a technology company called InterTalk where he did B2B marketing and Nova Scotia Works – Job Junction, where he got experience marketing directly to the public. He had a chance to run ad campaigns, develop and implement social media plans, interact with clients at trade shows, edit websites and find out how much he liked working with people.
Commerce students complete a semester of intermediate coursework affectionately referred to as Comm Summer immediately after their first work term is complete. "Everybody says this is the best semester, and I'm stuck inside, my friends are at the beach," he laughs. Looking back, some of his best memories come from that summer, like a boat cruise he took with his cohort. "It allowed us to get closer, get to know each other better." His business law course with Graham Steele also turned out to be a highlight. "I thought it would be dry, but it was by far my favourite course. He made it super interesting; I looked forward to every class."  
He also has fond memories of business communication professor Linda Macdonald: "she helped me find my way when I was starting off in the program. I've never met a professor as committed to her students as her. We're still in touch."
If Noah had the chance to do it over, he says "I probably would have become more involved in extra-curricular activities. In the first few years, I was really focused on doing well in my classes." In his last year, he joined the Rowe Women in Business Association as the VP marketing. "Being on the executive makes you feel like you have a positive impact on Dal student life. And it was a great marketing experience, I got to spearhead the communications for the annual conference and do giveaways, which was fun."
Noah has started working at IBM in Halifax as a business consultant and IT specialist in its project management practice. He's part of a cohort that was hired into the Global Business Services Associates Program, and will spend a year training to gain specialized skills that a more experienced professional would have. For the first few months that means a lot of what he's trained for while completing courses remotely over the past year—online learning modules, video lectures, assessments—but he'll be working on his first contract soon.
"It isn't really where I saw myself after graduating. I always envisioned working at a local marketing firm," he says. But studying and working in marketing during his co-op terms helped Noah realize how important it is to him to have a job working with people. Project management means liaising with many different departments and clients, which means he'll get to know everyone. And living through COVID-19 made him rethink some of his priorities: IBM will let him stay close to home with a lot of room for career growth.   
In addition to looking forward to working with his first client at IBM, Noah is dreaming of being able to travel again. "COVID has cancelled three trips on me now! I was supposed to go to New Zealand, South America and Florida." But the summer is looking bright, especially now that patios can safely open in Halifax. "Trying out new restaurants with my friends is one of my favourite things. If I get a chance to support a local restaurant, I'm there."