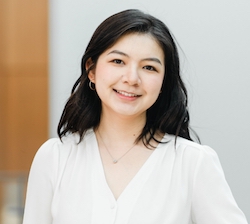 For international student Yuzhu Guo, the MBA Corporate Residency program represented not only the opportunity to expand her learning but also to begin navigating a new country. Now reflecting back to when she started the program in June 2019, Guo says it's hard to capture the extent of that learning curve. "This program is probably the hardest thing I've done in my life, not because it was so hard technically, but because everything was so new. I had to learn like a baby. There are so many things that people expect you to know as a master's student that I just didn't know," she says. Asked for an example, she said she went out for brunch with a couple of new friends just after her arrival in Canada. "The server asked me 'how would you like your eggs?' And I didn't know how to answer that."
Today Guo is thriving in Canada, something she credits in part to the support of program manager Julie Tarry in her first year. "We would have one-on-one meetings with our manager to talk about our careers. And I was completely out of my mind at the beginning of the program. I was panicked, crying in her office. And I started meeting with her once a week until I felt better." 
An economics major when she entered the MBA program, Guo says she most enjoyed her courses in consumer behaviour, business analytics and social capital. "I think the theories taught in class were really applicable to our daily lives," she says. She took the first two semesters of courses in person, then when the pandemic hit, she did the first three months of her corporate residency in person before moving online. She also completed the final courses of the program online. Guo says she didn't mind online learning, especially after she got used to it. "Our professors were really supportive and responsive. You could feel comfortable reaching out to them with whatever questions you had. I thought that was really nice," she says. 
Guo also found support in her corporate residency, completing her eight-month work term with Medavie Blue Cross. "I was a Marketing Insights Analyst—it was my dream job. My responsibilities were exactly what I wanted to do. And it was a very nice team, the corporate marketing team. I had the best manager in the world. I actually moved to Moncton—I'm currently in Halifax—for that role. And I was very scared in the beginning because I didn't know anyone in Moncton. But my colleagues were all very friendly and made things so much better," says Guo. 
She adds that she got to work on some exciting projects, including a data project where she examined federal census data in tandem with the company's own data to create customer profiles that would inform the company's marketing campaigns. She also completed a competitor analysis and projects related to COVID-19. 
Recently graduated from the program, Guo just finished a contract as a peer supporter at Dalhousie's International Centre where she answered students' questions about immigration and study permits. Now she's returning to Medavie Blue Cross as a business support analyst. While she may return to China someday, she's glad she came. "I think the program made me much more confident about myself. I was able to face a challenge like this so I'm able to do anything in the future," says Guo. 
As for international students, Guo says she now encourages them to find support like she did. "Reach out for help from your classmates, from professors, from anyone in the school. Just make use of the resources because the school is there to support you, no matter what problems you have. That was really valuable for me, reaching out and asking for help, and also for advice from alumni. I was afraid about bothering others, bringing problems to them. But we tend to underestimate other people's willingness to help."