News
»
Go to news main
Getting to know your staff: Viola Caume
Posted by
Taylor McCuaig
on February 17, 2021 in
News
Our January Profile for Getting-to-know-your-Staff is none other than Viola Caume. Thank you, Taylor McCuaig, for interviewing Viola for this profile.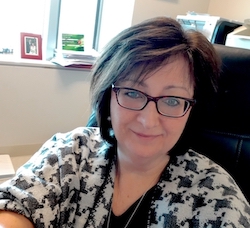 If you work in the Rowe School of Business, you probably already know Viola Caume. With 32 years of experience at the Rowe, Viola is the person you turn to, when you need something. If you haven't met her (yet), you've likely heard someone say, "ask Viola, she'll know." 
A New Year's baby, Viola comes to us from Cape Breton, which she says is likely the reason for her "colourful language" on occasion. More specifically, she is from Glace Bay, a small and quiet mining town not far from Sydney. Although her friends from this time in her life are now in various locations, they have remained friends to this day, gathering—when they can. 
Viola moved to Halifax in 1986 after completing her undergraduate degree at what is now Cape Breton University and later joined Dalhousie as a receptionist with the School of Business Administration (now the Rowe). Her present position is Administrator and Office Manager.
A typical day for Viola involves pushing out contracts, advertisements and recruitment materials for new faculty and staff and scheduling interviews. She finds her work/life balance on the weekends, spending time with her lovely grandchildren (pictured below).
In warmer months Viola can be found in her garden or on her deck admiring her roses and clematis. She may also be found jumping on her husband's motorcycle for scenic drives through Nova Scotia. Viola appreciates the opportunity to get out of the city, away from the constant development and construction of Halifax. The rest of Nova Scotia provides the perfect backdrop for a beautiful scenic drive, on the motorcycle or off.
Viola is quite passionate about the development and construction happening in Halifax. She says it upsets her because "all of these buildings and our trees are being torn down and nature is being disrupted." Viola has a passion for animal welfare, and has five cats. You read that right—five! She cares very deeply for her pets and spends a lot of time fundraising for various animal welfare causes. Viola is a truly thoughtful and caring individual; when asked what she hopes is different about the world in twenty years she said, "2020 was such a bad year with violence and Covid. I hope for peace, health and happiness."
Her advice for new Dalhousie employees is to ask a lot of questions and to get to know your co-workers because "you will always need to turn to them for something.
We hope that you now know Viola better than you did before, which is the intent of this initiative. If any staff members would like to participate as an interviewer or interview subject, please email dipti.periwal@dal.ca.
Editorial credit: Janet Lord