News
»
Go to news main
Creative Destruction Lab Atlantic to receive $1.25 million from Invest Nova Scotia
Posted by
Erin Elaine Casey
on December 7, 2018 in
News
A generous contribution from Invest Nova Scotia promises growth and longevity to the Creative Destruction Lab Atlantic (CDL–Atlantic), a unique coaching and seed-stage financing program for science and technology startups in Atlantic Canada.
CDL–Atlantic is a partnership between the University of Toronto's Rotman School of Management and Dalhousie University's Rowe School of Business.
Invest Nova Scotia's contribution totals $1.25 million—$250,000 a year for five years—and will support CDL–Atlantic's operations and development. Invest Nova Scotia helps sectors and communities become more competitive by funding projects that have a broad impact and promote cooperation and partnerships.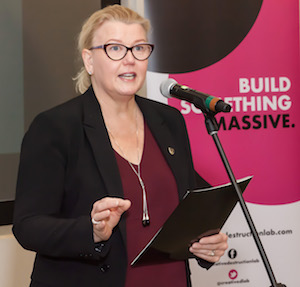 "We thank the Province of Nova Scotia and Invest Nova Scotia for their generous contribution," says Dr. Alice Aiken (pictured left), Vice-President, Research and Innovation at Dalhousie University. "This investment will allow CDL–Atlantic to continue leveraging the unique strengths in this region and show the world what we have to offer."
The nine-month CDL program matches high-potential startups with experienced business leaders to provide expert mentoring and leverage investment. CDL–Atlantic engaged 52 business leaders to serve as Fellows and Associates for the first cohort of ventures admitted to the program in 2017–18.
In total, 12 companies graduated from CDL–Atlantic this year. Among them, they raised an impressive $9.6 million in investment and created approximately $48 million in equity value. Eleven of these graduating startups attended the CDL Super Session at the Rotman School of Management in June, a gathering of all successful ventures from the five CDL sites across Canada. In total, these 11 ventures received 133 offers of support from Super Session attendees: Fellows, Associates, prospective investors and others.
"Creative Destruction Lab has established itself as the best mentoring program for massively scalable science- and technology-based companies," says CDL–Atlantic Fellow Jevon MacDonald, CEO and co-founder of Manifold, a company that helps developers and cloud services work together better. "Having this program in Atlantic Canada is a game-changer that has unlocked unprecedented mentorship and investment for startups in the region. This support will complement the existing private-sector support and engagement with CDL to further amplify its impact."
Pictured left: Colette O'Hara, Vice-Chair of Invest Nova Scotia (both photos: Timothy Richard)
The new funding will reinforce and expand CDL–Atlantic's proven programming, including mentoring, coaching and workshops. It will also grow other CDL–Atlantic initiatives, including the Diversity and Inclusiveness Project, Atlantic Student Project, Speaker Series Project and the Artificial Intelligence and Innovation and Entrepreneurship Projects. Other endeavours that capitalize on the region's burgeoning ocean and technology sectors are also in the works.
Ashley Kielbratowski, a CDL–Atlantic graduate, is co-founder and head of product development at Harbr, a software-as-a-service project management platform for retail construction. "CDL sets up a really nice structure—you leave each session with clear goals and actionable objectives to boost your business along," she explains.
Harbr completed the CDL program with $1.75 million in investment from eight CDL–Atlantic mentors, the best result of any graduating venture. "Having the influential Fellows in Halifax hear about us, our business, and our product has been invaluable," adds Kielbratowski. "It's a nice synergy of getting exceptional advice, quality networking, and confidence from business leaders believing in you."