News
»
Go to news main
Retiring faculty profile: Joan Davison Conrod
Posted by
Kim Humes
on July 22, 2018 in
News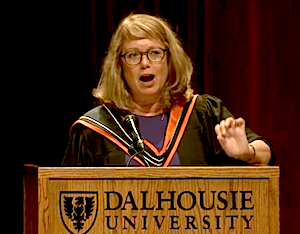 June 2018 marks the end of an era for the Rowe School of Business: Professor Joan Davison Conrod has retired. Professor Conrod has been a fixture at the School for over 40 years, when she graduated from the Bachelor of Commerce program. Since then, she has fulfilled multiple roles, including Lecturer, MBA graduate, Associate Professor and Professor. A Chartered Accountant since 1979, and a Fellow Chartered Accountant since 1999, Professor Conrod has helped prepare thousands of Commerce students for successful financial careers.
Professor Conrod is the recipient of many awards, including the 2012 A. Gordon Archibald Teaching Excellence Award, multiple Faculty of Management Teaching Awards and the 1996 Dalhousie Alumni Association Award for Teaching Excellence. She has been chosen by the students as Commerce Professor of the Year nine times.
Professor Conrod is clearly well-respected by her colleagues and students.
From Laura Cumming (Senior Instructor, Rowe School of Business; Faculty Associate, Centre for Learning and Teaching): "It is very challenging to encapsulate the force that is Joan Davison Conrod in a few sentences.  Anyone who knows her, would agree with this. Joan was my professor when I was a Dalhousie BComm student, and I wanted to be her when I grew up: smart, competent, professional, respected. Since joining the Faculty of Management as a full-time faculty member in 2008, I have continued to learn from Joan. She has been a valuable mentor and friend to me, someone I have gone to for advice countless times over the past decade. Her dedication to students is unwavering and reminds us that students are the most important resource of our university. She will be greatly missed."
From Chris Lacher (BComm 2016): "I will forever consider you the best accounting professor I've ever seen. Dal will be able to move on after your retirement, but it will never be the same. You are what holds the accounting program together and the school is losing a MAJOR asset (no accounting pun intended). On your last day, when you are walking out of the Rowe, and you open the door and feel that first breath of fresh air, I want you to think about how many lives you have touched. You are a role model to so many CPAs. Your legacy lives on through all of us."
For those who do not know Professor Conrod personally, simply listening to her commencement speech at the May 2018 Management convocation ceremony will give you a strong sense of her motivation and values. She encourages the graduates to be "respectful and hardworking", to "stand tall" and to approach hard decisions "with grace and flair and generosity and determination". At the conclusion of her speech, she reflects on her years at Dalhousie, saying: "For me, it's maybe 7,000 students, 37 years of teaching, one career. We're done. I'm done. It's your turn. Work hard, strive to be happy."
The Faculty of Management wishes you many more years of happiness in retirement.