Bachelor of Management Internship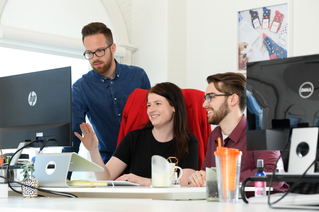 The Bachelor of Management degree is unlike any undergraduate program in Canada. Our approach to education reflects today's management and business environment with a curriculum that combines business, environmental studies, information management and public administration. With an internship option, qualified students apply their knowledge and skills to benefit employers in the workplace.
Management Internship Program Highlights:
Hire senior Management students for an extended 8- or 12-month employment period.
Students can start an internship either May or September and are available for regional, national and international opportunities.
Designed with employers' input, our curriculum and career services model ensures our students are personally and professionally prepared for the workplace.
Program Details
Management students must fulfill academic course requirements prior to participating in the Internship Program, teaching them the relevant skills and business concepts that will prepare them for the workplace.
With three full academic years completed, senior Management students who accept an internship opportunity longer than 8 months will delay their graduation date. The internship option is viewed as a career investment, to build on skills and professional experience, enhancing employability after graduation.
For information on Management Internship student qualifications, compensation, program schedule, and work term criteria, consult our Program Fact Sheet [PDF - 134 KB].

Recruitment Timeline
Internship positions are posted between September and May for either a May or a September internship start date.
Hire a Bachelor of Management student
If you would like to post a job and employ a Dalhousie Management student, contact our Employer Development Team.