Promotion & Engagement Opportunities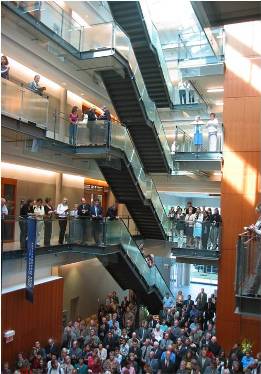 Engaging employers beyond the job posting, Management Career Services offers you a number of opportunities that will maximize your brand's exposure to thousands of students, staff and faculty in Dalhousie's Faculty of Management.
As an employer partner, participating in our career development events connects you directly with students and faculty while advancing your organization's profile and reputation amongst future hiring prospects. Ask our Employer Team how you can take advantage of the following promotion and engagement opportunities.  
Build your brand on Dalhousie campus 
Increase brand recognition and attract young business professionals to your talent pipeline by engaging with our students through various MCS-led events and activities.
Participate in Experiential Learning
Invest in the next generation and help prepare the workforce of tomorrow by engaging with students through experiential learning activities. These opportunities tend to offer valuable student-employer interactions where you can share your knowledge and career insights to help better prepare them to succeed in the workplace. We regularly seek employer partners to participate in:
panel discussions
practice interviews and elevator pitches
in-class talks
industry information sessions
case competitions
Sponsor an Event

Put your organization front and center at major on- and off-campus events in Halifax and Toronto. This is your opportunity to profile your organization as a featured employer partner dedicated to students' career development prior to graduation.  
Host students on site
Provide students with an insider's perspective on your business, through unique opportunities such as our Corporate Tours or our award-winning Workplace Experience Program. Showcase your organization's culture, work environment, and team in action to entice prospective student and new grad hires.