Funded Projects
Scholarly Outcomes and Benefits of the New Ventures Funding

Jan Gao, Undergraduate Student
Global Brigades Honduras, 2023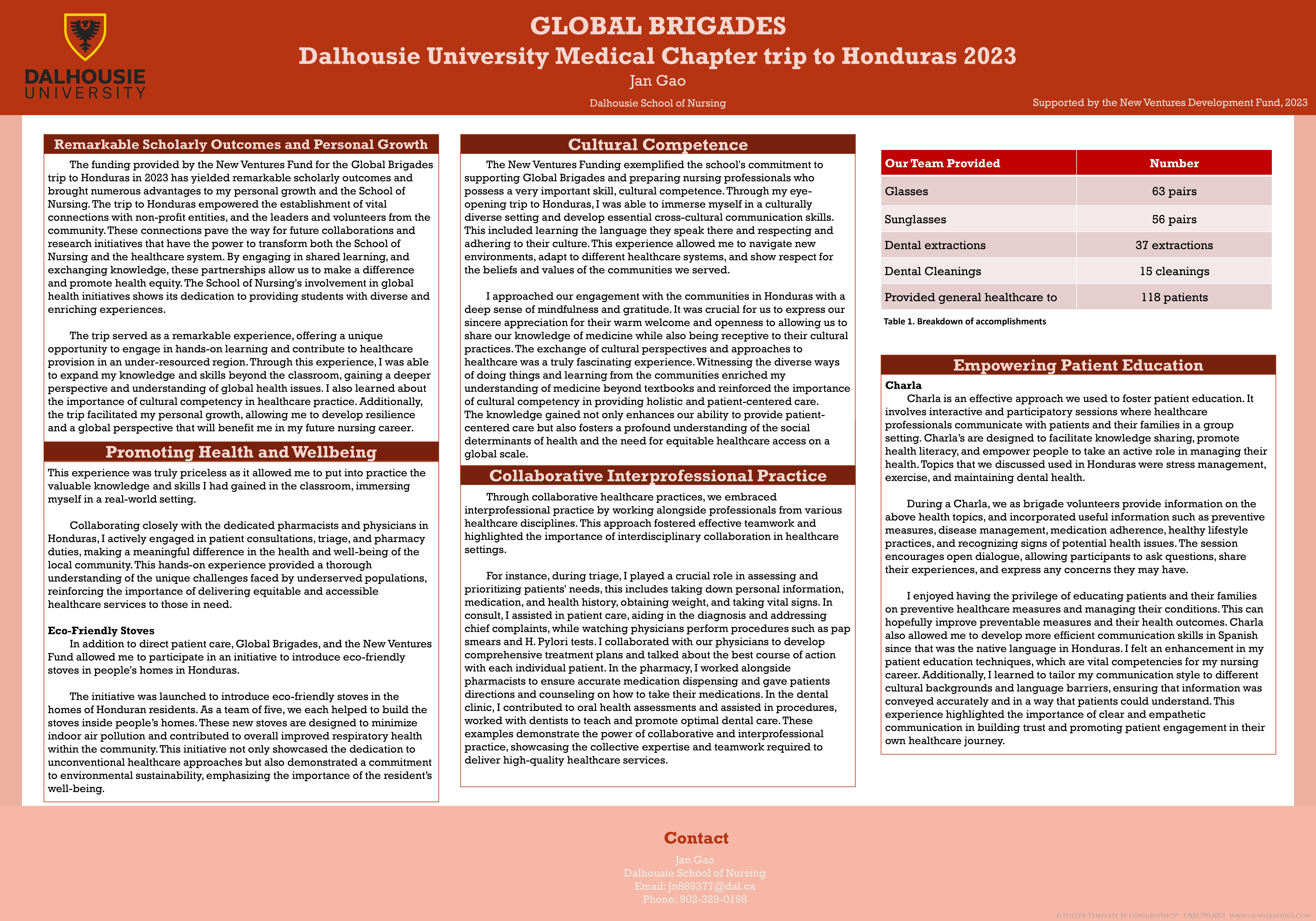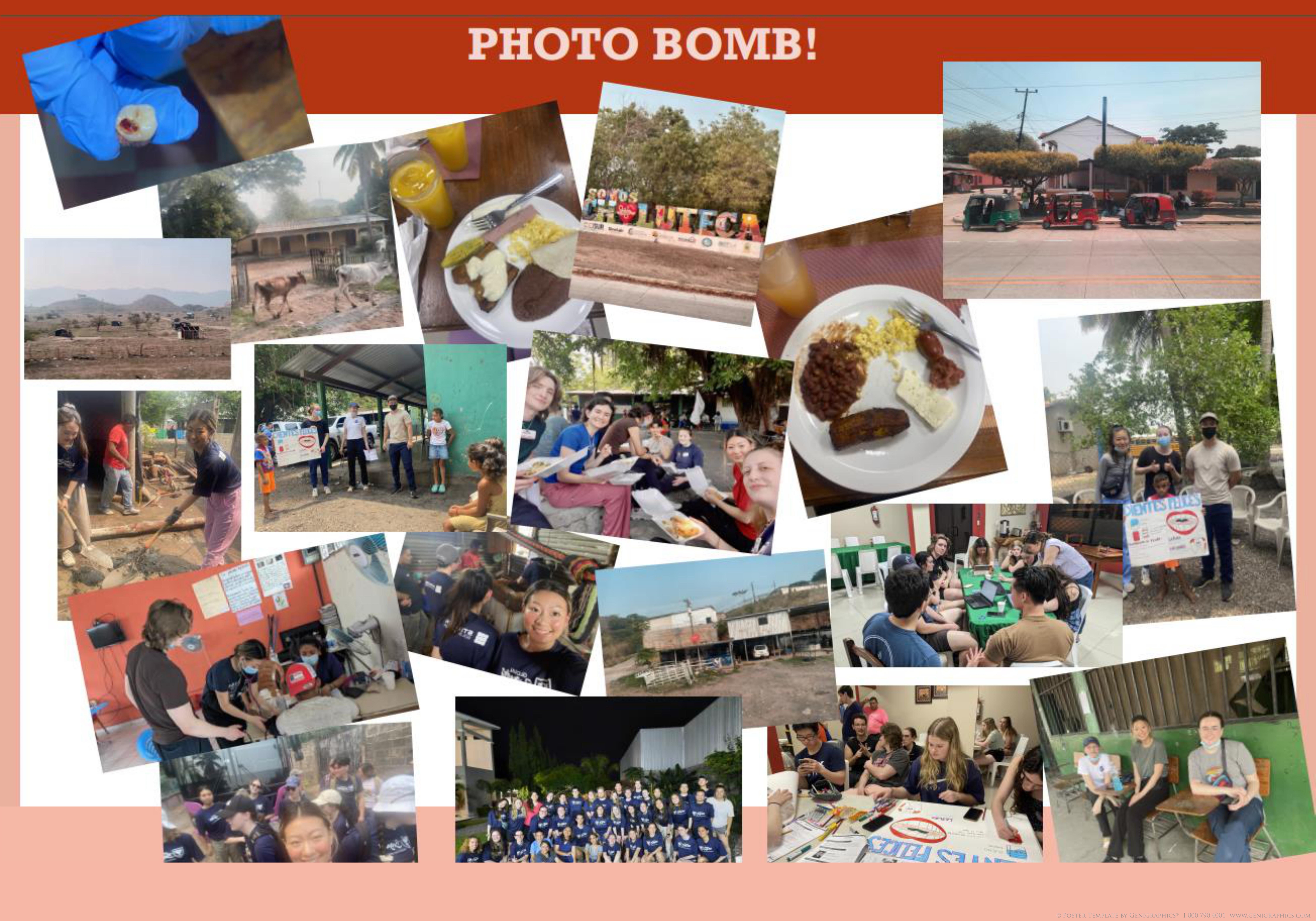 A student's personal perspective on how global health missions can transform nursing students' perspective on the existing curriculum at Dalhousie. Working under a holistic model and a person/community centered approach, many of the take-aways from an international experience can be incorporated into a student's practice in Nova Scotia.
Many of the early teachings of the SON curriculum are emphasized, such as an upstream approach, basic-level pharmacology, and social determinants of health. 
A brief overview of the trip is given, along with how it connects with the SON values, mission and strategic plan. The speaker makes recommendations for how the SON can further develop to prepare its RN students for practice in nova scotia through more hands-on and community-based practices. 

Madison Walsh, Undergraduate Student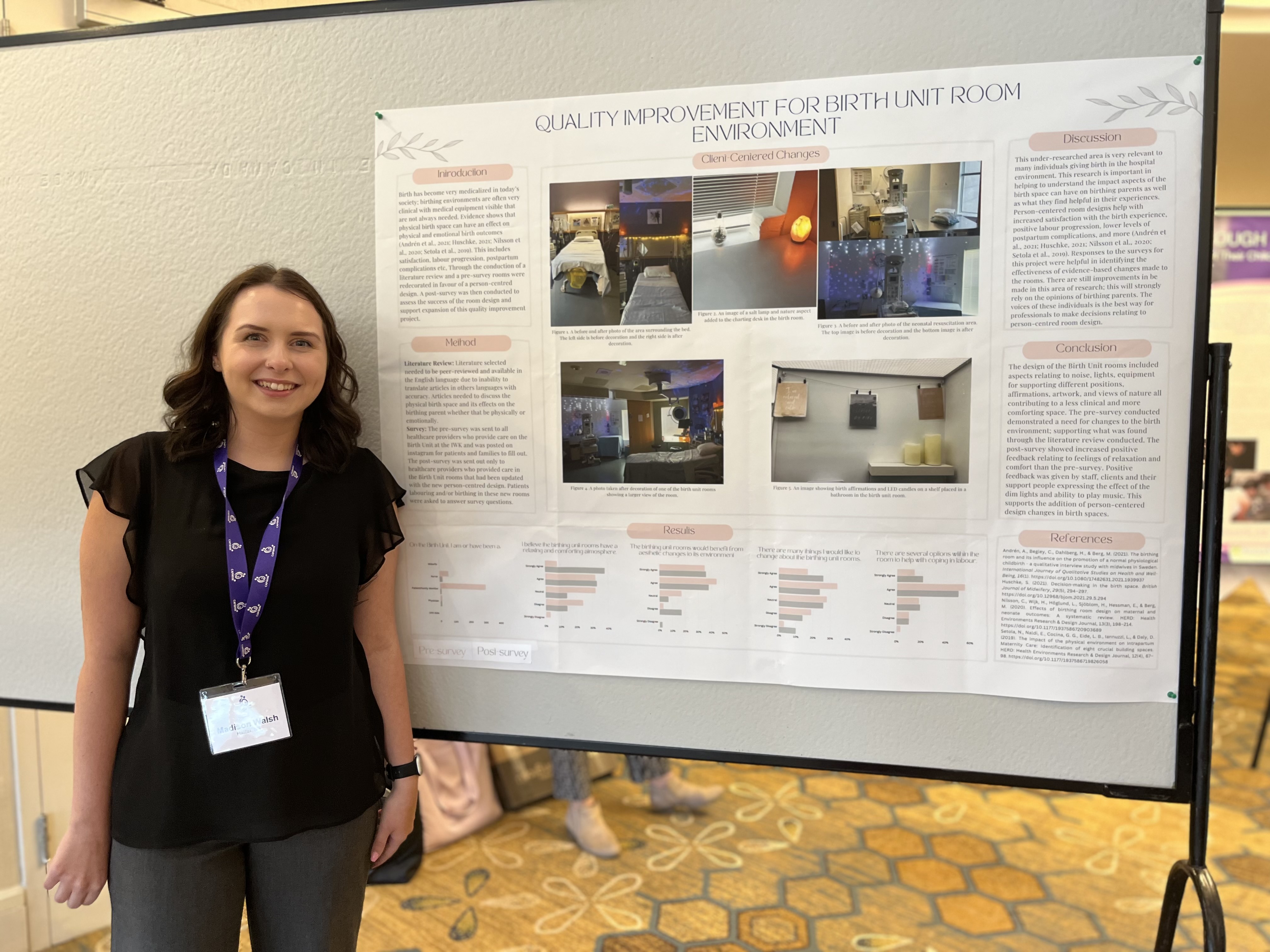 Poster Presentation at CAPWHN National Conference April 2023
Quality Improvement for Birth Unit Room Environment
Through presenting my poster, I was able to connect with nurses working as perinatal nurses throughout Canada to display my project and the impact it can have. This was very well received and people were quite impressed with the collaboration between Dalhousie and the IWK. Not only did I get to connect with nurses through my presentation but also through attending others when I was not presenting my own work. This was able to show me what various health centres across the country are doing to improve client care and embrace evidence informed practice.

Through this experience, I became very interested in a variety of topics and how we may be able to utilize the information in our healthcare system in Nova Scotia. In addition to this, through attending oral presentations, I was able to have a better understanding of what is required for this type of presentation which made me interested in this option in the future.

If it were not for this funding opportunity, I would not have been able to fund this opportunity on my own and learn what I had learnt. I am still processing this information days later and will continue to reflect on the opportunity and what I can do with the information I was able to receive and present. Presenting at this conference taught me a variety of things and made me eager to continue work like this in my future career as a nurse. I once again want to thank the contributors to the New Ventures Fund as well as the group awarding me this opportunity.
With the support of the New Ventures Fund of Dalhousie University, I completed JBI's Comprehensive Review Training Program. This program (completed June 2022) allowed me to develop valuable skills and an understanding of conducting a systematic review. Since completing the training, I have created a team of key stakeholders to complete a comprehensive scoping review, including key knowledge users, undergraduate research assistants, and academic mentors. This scoping review will provide a foundation as I complete my proposed Ph.D. project.  
This funding has supported my academic trajectory and research development. In addition, this funding has indirectly supported my ability to mentor undergraduate research assistants, providing an opportunity for undergraduate students to be involved in significant research endeavors. Furthermore, the scoping review that I lead will contribute to the work of AH-NET-C: A JBI Centre of Excellence here at Dalhousie, along with the CTNHR, where I will prepare oral presentations of my proposal and findings.   
The training will continue to allow me to lead and assist on multiple knowledge synthesis projects within the School of Nursing. This training has become a foundational skill for my program of research that I am striving to create within the School of Nursing at Dalhousie University.