News
»
Go to news main
Dr. Megan Aston selected to be inducted as a Fellow of the American Academy of Nursing
Posted by
Dawn Morrison
on November 10, 2023 in
News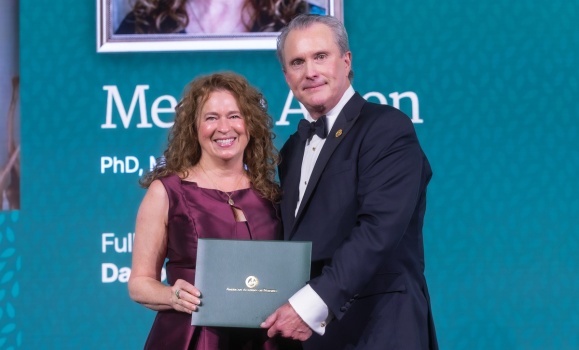 Dr. Megan Aston has been selected as a Fellow of the American Academy of Nursing. Induction into the prestigious Academy is a significant milestone in a nurse leader's career in which their accomplishments are honoured by their colleagues within and outside the profession. Fellows are selected based on their contributions and impact to advance the public's health.
Dr. Aston is a professor at the Dal School of Nursing, Associate Director Research and International Affairs, and Director of the Centre for Transformative Nursing and Health Research (CTNHR). Her teaching expertise includes qualitative health research and family and community health nursing. Her research focuses on family, perinatal, child and newborn health. She uses feminist poststructuralism informed by discourse analysis to examine how nurses and clients negotiate beliefs, values and practices that have been socially and institutionally constructed through relations of power. She has secured provincial and national funding to support research studies in Nova Scotia and Tanzania; mapping mothers' social networks'; postpartum home visits; hospital experiences of children with intellectual disabilities, their parents and nurses; 2SLGBTQ+ compassion; queer women's birthing experiences; obesity management; and nurses' bereavement support experiences at a children's hospital.
"I was thrilled to receive the news that I was going to be inducted as a Fellow into the American Academy of Nursing. Standing with so many amazing nurse leaders and being nominated by my mentors Dr. Sheri Price and Dr. Ruth Martin-Misener who recognized my program of research to be substantial was exhilarating."
Dr. Aston and the 2023 inductees were recognized for their substantial, sustained, and significant contributions to health and health care at the Academy's annual Health Policy Conference, which took place during the Induction Ceremony on October 7 in Washington DC. The Academy is comprised of more than 3,000 leaders who are experts in policy, research, administration, practice, and academia that champion health and wellness, locally and globally.
Through a competitive, rigorous application process, the Academy's Fellow Selection Committee reviewed nearly 400 applications to select the 2023 Fellows. The 2023 Fellows represent 40 states, the District of Columbia, and 13 countries.
She was also inducted as a Fellow into the Canadian Academy of Nursing on Oct 4 along with 20 other inductees in a virtual ceremony. The award was first implemented four years ago to recognize outstanding nurse leaders in Canada.