News
»
Go to news main
'There's really no safety net': School of Social Work's Dr. Jeff Karabanow on Nova Scotia's housing and homelessness crisis
Posted by
Stephanie Brown
on October 24, 2023 in
News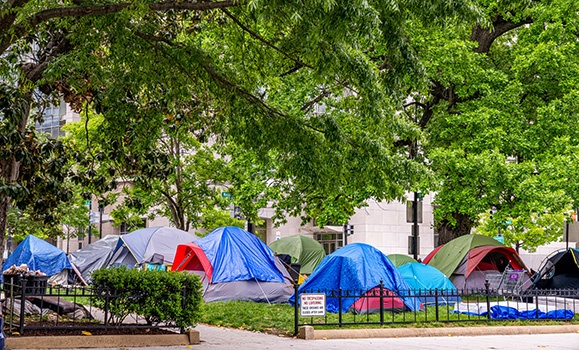 Dr. Jeff Karabanow says when he moved to Nova Scotia, one of his first interviews was about the lack of investment into public housing in the province, and 25 years later it remains the same. The School of Social Work professor says after a pandemic, very low income assistance rates and rising prices of rent and housing, there's really no safety net for people who are struggling.
He has worked with homeless young people in Toronto, Montreal, Halifax and Guatemala. Dr. Karabanow's research focuses primarily on housing stability, service delivery systems, trauma, and homeless youth culture. He is one of the founding members of Halifax's Out of The Cold Emergency Shelter and the Co-Director of the Dalhousie School of Social Work Community Clinic.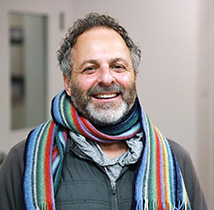 Dr. Karabanow will be discussing the social impacts of housing at the Housing Engagement panel series hosted by Dalhousie Architecture and Planning on October 27th at 11:00 am in Halifax. There will be two more panel discussions on November 3rd and November 17th.
He says good things are being done now at all levels of government, but they are playing catch up, and it's going to get worse before it gets better.
The biggest issue right now? Dr. Karabanow says the lack of affordable space.
"There's a lot of funding coming for that, we're seeing some new initiatives, but it doesn't help people living rough right now. There's nowhere to move them."
It's rare that there are any open spaces at the shelters currently operating in Nova Scotia, and Dr. Karabanow explains that not everyone considers that a safe option.
"For some people shelters can be very triggering. There's a lot of noise and activity, so for people with mental health or addiction issues that can be hard. People can feel discriminated against in shelters, couples may not want to split up, or people don't want to lose their animals. Shelters are an important resource but they are meant to be a short-term band aid solution. They have become long-term for so many."
'People can't get ahead'
Dr. Karabanow says that since the start of the COVID-19 pandemic, he has seen a much deeper connection between non-profits and all levels of government about the homelessness crisis, and more out-of-the-box thinking, like moving people into hotels.
"The province has been hit with a pandemic and some natural disasters that have strained people's living. People can't get ahead. It's so difficult to pay rent, buy food and medication, and raise kids."
"We've also seen a lot more suffering. In our general population there are more mental health concerns. And more people are moving into the province without supports."
Province-wide issue
Dr. Karabanow says people have been priced out housing across the province who would normally be able to live comfortably. He says we have very few single occupancies left, and those that are available are very expensive.
"That's why the argument is that you need to have some sort of housing outside the private sector. We've been asking them to build for 20 years."
A lot of the resources are concentrated in the HRM, but Dr. Karabanow says the province is attempting to help the rest of the province.
"Homelessness is more hidden in rural communities. The lack of affordability is still there, and they don't have as many resources. There's a dire need for them to be able to stay in their community. We have beautiful quaint communities that tourists love and they purchase homes, but we have lots of citizens being priced out."
How we compare to the rest of Canada
Dr. Karabanow says that British Columbia, Ontario and Quebec all went through different phases of moving funding into affordable housing and public housing over the years, but we did not.
"I know people in all levels of government in Nova Scotia who have the biggest hearts and they care about this but have been slow at reacting. Canada as a whole has been slow at preventative measures, but we're very good at emergency measures like we saw during COVID."
Public perception of homelessness
Dr. Karabanow says we've always had a homeless crisis, but it used to be less visible. Now that there are so many tents downtown and it's in front of people, it can't be ignored.
"My sense is now that homelessness is more visible, we have gone through a major collective disaster, and we all know everything from housing to food and medicine is more expensive, I think we all have a deeper empathy for those living rough. COVID showed us we all live together, and we have to care for each other."
"Nova Scotia is an extremely caring community, there's so much more awareness that we need to do something. But it shouldn't be on communities to fix it, every level of government has to put all resources into basic survival of its citizens."
Register today for the Social Impacts of Housing panel on October 27 at 11:00 a.m. and learn more about upcoming talks in the Housing Engagement panel series.