News
»
Go to news main
Assistant Professor in School of Social Work making far‑reaching impacts in climate change adaptation and disaster resilience research
Posted by
Josey Houle, Dal Health freelance writer
on September 19, 2023 in
News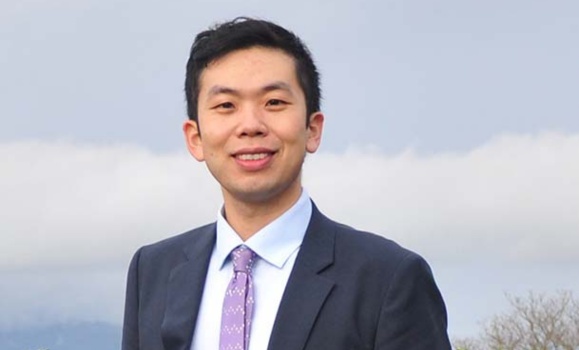 In a world facing devastating climate-induced emergencies and international disasters, Dr. Haorui Wu, assistant professor in the School of Social Work (SSW), is devoted to the empowerment of crisis preparation, response, recovery, and mitigation across local, provincial, federal, and transnational levels.
"We are on a shared planet. Everybody has the equal right to be protected, physically, socially, and in many other ways. We cannot leave anyone out," he says.
In addition to his role as Assistant Professor in the SSW, Dr. Wu serves as the Canada Research Chair (Tier II) in Resilience, and as an external research associate in two renowned disaster research centers: the Natural Hazards Center at the University of Colorado Boulder, and the Institute for Catastrophic Loss Reduction at Western University.
Environmental justice and social justice serve as Dr. Wu's core research values. Ultimately, he seeks to investigate how natural, built, and social environments interact in the context of climate change and disasters. As a social worker, architect, planner, urban designer, and landscape architect, Dr. Wu understands transdisciplinary collaboration to be necessary in his field of research.
"The influences of disasters cannot be isolated. Holistic solutions through interdisciplinary and transdisciplinary approaches are needed," he says.
Dr. Wu is currently working with local, provincial, and federal governments to develop a holistic emergency and disaster rapid response network. Once the network has been established, Dr. Wu hopes that the network's researchers will continue to collaborate with emergency and disaster rapid response networks and researchers beyond Canadian borders.
"Disasters do not respect geographic boundaries. We need cross-national collaboration to deal with that," he says.
Dr. Wu is currently engaged as principal investigator or co-investigator on 23 external research projects. His ongoing research projects address various topics such as veterinary social work, the impacts of hurricanes upon human behaviour and mental health, the support of animals and companion animal guardians in disaster situations, and more.
Dr. Wu's research empowers grassroots-level initiatives that prioritize individual and community well-being in housing-oriented development efforts. Moreover, through his transdisciplinary research outreach, Dr. Wu advocates for equality, diversity, and inclusion in community resilience, sustainability, and development efforts.
Dr. Wu explains that vulnerable populations are more proportionately affected by climate change and disasters. Equipped with this understanding, he prioritizes identifying and shining light on the challenges and needs of vulnerable populations, which include ethnic minorities, Indigenous peoples, immigrants and refugees, people experiencing homelessness, and more. Moreover, Dr. Wu works with communities to create and/or identify local resources that can best support vulnerable populations in times of crisis.
"What research can do is to support people. We need to engage researchers to understand the important and urgent issues in their communities, and use our shared research power to provide communities with solutions," he says.
As he reflects upon his career as a researcher, Dr. Wu is most affected by the projects that have had the greatest community-level impacts. One of the fondest memories of his career was when he was recognized by a grocery store worker, who went on to thank him for the research he had been conducting on underreported frontline workers during the COVID-19 pandemic.
"In academia, publications are essential. But societal impacts could make our society better," he says.
For more information on Dr. Wu's research projects, visit his faculty page and research website.