News
»
Go to news main
Working with Paralympic athletes changed the course of alum's career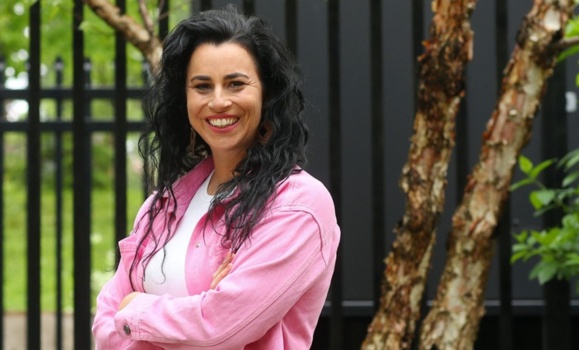 Amira Tawashy (MScOT'12) is nothing if not a multi-tasker. She is a Dal Faculty of Health instructor, an occupational therapist with the neurosurgery and assistive technology portfolios of Nova Scotia Health, a consultant to the World Health Organization and a member of both the International Society of Wheelchair Professionals and the Wheelchair Research Team. She is also the guest speaker for the 20th Kelly Bang Memorial Lectureship happening Sept. 21 at Dalhousie.

Tawashy completed her undergraduate and first master's program at the University of British Colombia where she was a competitive swimmer (she previously coached the Dalhousie Team). During her first master's program, she coached wheelchair sports through the BC Paraplegic Association. Her early career aspirations were set to be a physiotherapist but her work with Paralympic athletes sparked her interest in occupational therapy and changed the course of her career.
Exploring east
Tawashy then moved across the country to come to Dal, meshing her knowledge of physiotherapy research and neuroscience with new learnings in OT. Now, in addition to practising, Tawashy is an instructor for the Dalhousie School of Occupational Therapy and teaches one of the only courses that cross over between physio and OT.
Coming to Dal, the idea of being out in the communities during rural placements excited Tawashy and allowed her to see Atlantic Canada and experience east coast hospitality.
"Something that appealed to me was the fact that my placements were all over Atlantic Canada," says Tawashy, citing six months in Newfoundland and time in Shelburne as a highlight.  "I just loved it. I'm pleased that I chose Dalhousie for those kinds of personal exploratory reasons."
Making it personal
While transitioning from being a student at Dalhousie to an instructor, Tawashy took learnings from all her time in academia and the professors who inspired her, like Dean Brenda Merritt who added a personal approach to the first 15 minutes of their first class.
"[Dean Merritt] told us about herself. Where she was from, why she chose OT, and what she likes to do outside of school or work," says Tawashy. "It was so nice to kind of see the personality behind the professor; it also spoke to what we preach about having a well-balanced life." Tawashy gleaned that everyone is more than their career or school. "Now I start my first class of the semester the same way."
Eye-opening international experiences
On top of teaching and inspiring the next generation of occupational therapists, Tawashy has vast experience working internationally in Nepal, Kenya, Haiti, Uganda, and Ukraine. Being in the Ukraine during February and March this past year, Tawashy worked as a consultant with the World Health Organization.
"They were trying to build national capacity for spinal cord injury rehab. There was also a consultant physio, a consultant nurse, psychologist. It was great, we were all from all over the world coming together."
Working internationally opened her eyes to things we take for granted in North America.  "I often think [of how] we are here in the resourced world; we see a lot of people who use wheelchairs," says Tawashy. "We see how they push them; we've seen some wheelchair sports. Maybe we've seen people in our community use wheelchairs, but when you go to Nepal or Uganda, wheelchairs aren't as common of a sight. So, people have no idea how to use them."
Honouring Kelly Bang's legacy
Tawashy will be the featured speaker during the 20th Kelly Bang Memorial Lectureship. Kelly Bang was a nationally known occupational therapist, lecturer, writer, artist, and counsellor for survivors of child and sexual abuse. The Kelly Bang Memorial Lecture was established by her family to honour those whose research, practice, teaching, and advocacy advance opportunities for women and other marginalized adults within their communities.
"Empowering Occupation: The bumpy road to wheelchair provision in under-resourced communities." with Kelly Bang lecturer Amira Tawashy takes place Thursday, September 21st from 6–7 pm at Theatre A, Sir Charles Tupper Medical Building. Register now!