News
»
Go to news main
STAFF SPOTLIGHT: Suzie Officer, Executive Director Planning and Strategy – Dean's Office
Posted by
Stephanie Brown
on August 11, 2023 in
News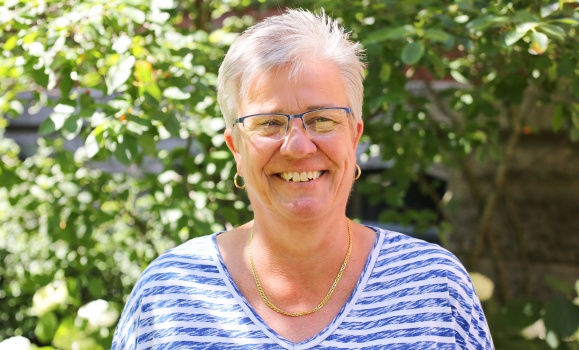 Get to know our Dal Health staff better in the Staff Snapshot! We have started a new feature to recognize and celebrate our employees' outstanding contributions to the Faculty of Health and the Dal community called the Staff Snapshot! The Staff Snapshot will regularly profile one of our fabulous staff from our many academic units. If you have someone you want profiled, send us an email at healthcomms@dal.ca.
From starting a Masters of Health Education with the School of Health and Human Performance in 1987, to helping lead the Faculty through a global pandemic in 2020 – Suzie Officer has seen it all.
Officer is the Executive Director, Planning and Strategy with the Faculty of Health's Dean's Office. Her role is predominately overseeing and implementing the Faculty's strategic plan, but when the COVID-19 pandemic hit, she took on the responsibility of managing the crisis and back-to-campus planning.
Officer has a unique viewpoint of Dal Health as someone who has been here through so many changes.
"Since I've been here, this Faculty has grown so much. We are now being looked at by the rest of the university as a resource because we are so far ahead."
Return to campus
When the pandemic first hit Canada and Dalhousie moved to online teaching, it was soon realized that although many of our Faculty's courses could be taught online, there were some that couldn't.
"You can't teach someone how to transfer a person from a wheelchair to a bed online, you have to do it in person," Officer says.
She pulled together a team that met every Thursday for two and a half years during the pandemic to sort out the back-to-campus plan. The team included faculty, staff, directors, liaison from agriculture campus, occupational health and safety, the registrar's office, facilities management, security, custodial and more. The group would discuss what questions and concerns they had, then Officer and Marion Brown, Dal Health's Associate Dean Academic, would figure out a way to solve those problems. Everything then had to be approved by Dalhousie's return to campus team, which Officer says became easier and easier when it became clear how informed the Faculty plans were.
Officer says although the process was exhausting, it was very fulfilling to see the plans come together.
"It ended up being really remarkable how we came together as a Faculty. It was an incredible exercise in team building."
Officer says it was almost disappointing to the team when they realized there was no need for more meetings, because they had grown to enjoy spending so much virtual time together. On the plus side, those connections made across campus still come in handy today.
Strategic plan
The Faculty recently created a new strategic plan that is flexible and has clear, realistic and actionable items.
Officer says the plan is like the operating system for the whole Faculty – and it works.
"We are doing brilliantly, knocking things out of the park."
There are five teams – one for each focus area – with people with very specific skillsets on each. They meet monthly to assess how their area is doing, call on the people they need to call to keep things going, and get it done.
Officer says one of the big changes from our previous strategic plan is this one is much more action than words, and people can commit much less time to it but still see results because it is focused.
Space planning
Officer has also been tasked with leading a space planning group with the Faculty to try and figure out how we can continue to grow, even though we've already outgrown our space.
"We had a space report done that indicated that by using a standard formula from Dal, we should have the equivalent of the whole Tupper building. The reality is we have half," Officer says. "We've outgrown our space and we're band-aiding it."
Officer says her connections in facilities, the registrar's office and custodial have been key throughout this process as they try and move classrooms around, but have to be aware that each change affects something else.
"It's like a giant jigsaw puzzle with no colours and some pieces have round edges and some straight edges."
The people of Dal Health
Officer says her favourite part of working here is the people (and the puppets).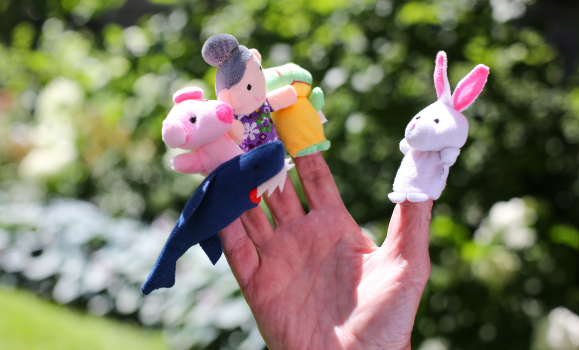 If you've visited Officer's office, you've seen the famous puppets. The Dean's Office team have been treated to incredible puppet shows. (Bruce Bottomley photo)
"I get to talk to faculty and staff, and we have brilliant people in all our employment groups that bring light and joy to this job."
"We have a great crew, especially in the Dean's Office. We call ourselves the Dean's Dream Team because we are."
Officer says it feels awesome to be recognized by her peers for the work she does for the Faculty, but always makes it clear she's part of a team.
"I have worked damn hard for many years to be respectful and trust people and I hope they get that from me."