News
»
Go to news main
Bachelor of Science (Recreation) and Bachelor of Management grad wants to share benefits of recreation and leisure with others
Posted by
Dal Health Communications
on June 16, 2023 in
News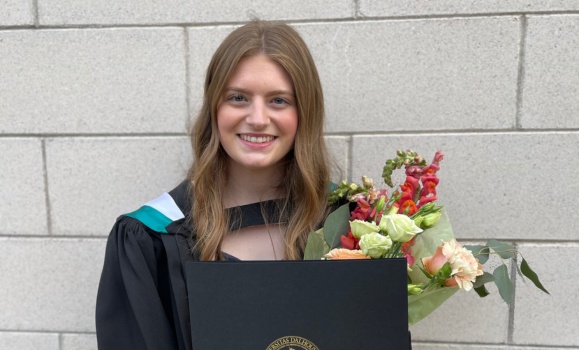 Congratulations to all of our Dal Health Class of 2023! To celebrate Spring Convocation, we chatted with students from across Dal Health. Claire Steele graduated with a Recreation Management degree which is a joint Bachelor of Science (Recreation) and Bachelor of Management.
Convation Q&A: Claire Steele

Pronouns: she/her
Degree: Recreation Management (joint Bachelor of Science (Recreation) and Bachelor of Management)

Where you're from: Fall River, NS
How significant is it for you to receive this degree?
Obtaining this degree holds immense importance for me, as it paves the way for me to transform my passion for recreation and leisure into a fulfilling career. Recreation and leisure have consistently held immense significance throughout my life, playing a meaningful role. My interest lies in the opportunity to extend the many benefits of these activities to others and their respective communities.
What were the highlights of your degree?
The most cherished moments of my degree revolved around the incredible friendships I cultivated within my program, the extracurricular engagements within the school, and the internship experience during my final semester.
As I progressed through the last two years of my program, the class sizes became more intimate, allowing me to create deep connections with fellow students. The courses I took offered me the opportunity to undertake projects that aligned perfectly with my interests and enabled me to make a positive impact. Among these, a personal favourite was my involvement in the Recreation Library Launch for Recreation students, an endeavour that brought me immense joy. Additionally, I had the privilege of completing my internship with Recreation Nova Scotia, an experience that provided me with many insights into the workings of a not-for-profit organization and the provision of recreational services across Nova Scotia. I had the privilege to organize and lead the successful Explore Recreation Day event, catering to more than 50 Recreation students across Nova Scotia.
What will you miss about your time at Dal?
I'll really miss seeing my friends and the amazing faculty members on a daily basis. The overall atmosphere and participating in intramurals are also things I'll deeply miss.
What was your journey to Dal and to this program?
Having a strong desire to remain in Halifax for my university education, the discovery of the internship opportunity in the Recreation Management program (graduates from this program receive two degrees on completetion: BSc (Rec) and BMgmt) greatly intrigued me. Recognizing the significant value of this internship during the final semester, I became highly motivated to pursue it. I strongly believed that the internship would serve as a vital steppingstone towards acquiring valuable practical experience before embarking on my professional journey upon program completion.
What topics/research/work did you become passionate about during your education?
Throughout my academic journey at Dal and my immersive experience in the Recreation Management program, a strong passion for accessibility was kindled within me. As part of my coursework, I chose to conduct an in-depth accessibility audit for a hockey arena in Cape Breton, NS. It revealed the importance of creating an inclusive environment for everyone. As a result, my passion for learning about improving buildings and facilities for universal accessibility remains unwavering.
What's next for you?
Presently, I hold the position of Events Coordinator at Recreation Nova Scotia, concurrently engaging in a significant role with the North American Indigenous Games. I'm thrilled to see how my knowledge and skills from my degree seamlessly align with my professional pursuits. I'm incredibly excited to see how this career path will facilitate my personal growth in a field that deeply resonates with my passions.