News
»
Go to news main
Speech‑language pathology grad accomplishes goal set a decade ago
Posted by
Dal Health Communications
on June 12, 2023 in
News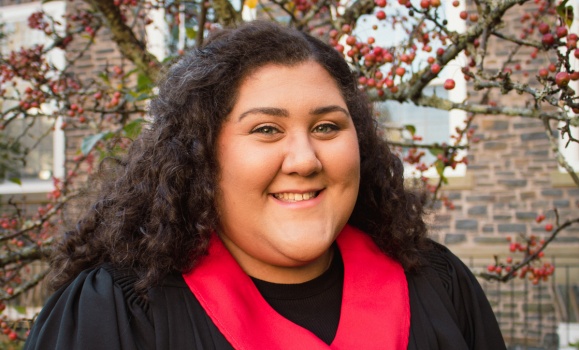 Congratulations to all of our Dal Health Class of 2023! To celebrate Spring Convocation, we chatted with students from across Dal Health. Morghan Manuel graduated from the School of Communication Sciences and Disorders with a MSc Speech-Language Pathology.

Convation Q&A: Morghan Manuel

Pronouns: she/her

Degree: MSc Speech-Language Pathology
Where you're from: Halifax, Nova Scotia
How significant is it for you to receive this degree?
This degree feels like a major accomplishment. I set out to pursue a career in Speech-Language Pathology after being inspired by a Speech-Language Pathologist over a decade ago, and it feels like I have always known what I have wanted to do. This degree feels like an accomplishment of the goals set by my younger self, and I am so excited to finally get to work in the area I am so passionate about.
What were the highlights of your degree?
A major highlight of this degree are the opportunities gained from clinical placements. Getting to learn from someone working directly in the field is such an amazing learning experience, and I appreciated learning from my clinical educators so much. Clinical placement is where I gained experience in a wide variety of areas under our scope of practice, and I got to work in the areas I am most interested to focus my career in.
Another highlight of course is the amazing friendships I have made over the last three years. Being in a smaller cohort allows you to connect on a deeper level with your colleagues and to foster some amazing relationships. I am so grateful to my friends. From the motivational talks, the endless study sessions, to bringing each other little treats, I would not be here without them.
What will you miss about your time at Dal?
I will miss the tight-knit community that we formed and getting to see my favourite people every day. It is bittersweet knowing we are now all across the country pursuing the career we all worked so hard for, but I am excited to see where we all end up.
What was your journey to Dal and to this program?
I was introduced to Speech-Language Pathology at a job fair for health professionals at the IWK Health Center when I was in junior high. I chatted with an amazing Speech-Language Pathologist (who later became my clinical educator) and I left knowing what I wanted to do for the rest of my life. I dedicated much of my free time to volunteering in related areas, exploring different degree paths, and finding an undergraduate degree that would make me competitive to being admitted to Dalhousie. I moved to Ontario for my undergraduate degree, but always knew I wanted to return to Nova Scotia to continue my education. I received my acceptance to Dalhousie in the height of the pandemic, and spent the first year navigating school from home, and figuring out how to be successful in a new environment and a new normal. Over the last three years, I have gone from online school and telepractice to meeting my cohort and instructors for the first time in person and getting the opportunity to travel across the province for clinical placements.
What topics/research/work did you become passionate about during your education?
I had no idea of the full scope of Speech-Language Pathology when I first started this degree, and I have learned so much. I did not know just how much a speech-language pathologist can support adults, and I developed a particular passion for supporting adults with neurodegenerative conditions and acquired brain injuries with communication and swallowing disorders.
Another area that I was always interested in, but gained amazing work experience and developed a passion for is assistive technology and augmentative and alternative communication. Working with families and clients to provide alternative access to communication and helping individuals develop or regain their voice has been so rewarding, and an area that I think will continue to develop over time with the advancement of technology.
What's next for you?
I have accepted a position as a speech-language pathologist in Cape Breton, and I will be moving back to where I completed my first clinical internship to begin my career. I am very excited to be working in the areas I am particularly passionate about, including adult rehabilitation, swallowing disorders, and speech and language services across the lifespan.