News
»
Go to news main
'It started off with a career quiz': Clinical Vision Science grad reflects on her journey to Dal
Posted by
Dal Health Communications
on June 5, 2023 in
News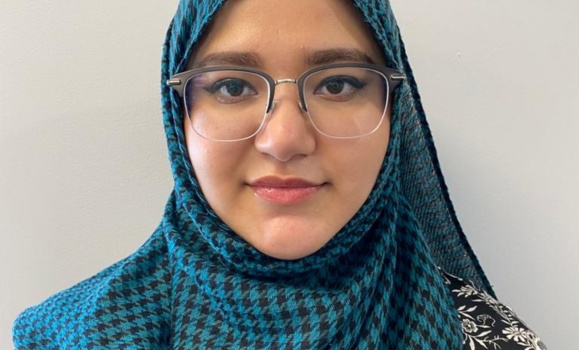 Congratulations to the Dal Health Class of 2023! To celebrate Spring Convocation, we chatted with students from across Dal Health. Sarah Munir is graduating from Clinical Vision Science with a Graduate Diploma in Orthoptics and Ophthalmic Medical Technology.
Convation Q&A: Sarah Munir
Name/Preferred Name: Sarah Munir
Pronouns: she/her/they
Degree: Graduate Diploma in Orthoptics and Ophthalmic Medical Technology

Where you're from: Pakistan but moved to Halifax for this program from Toronto.
How significant is it for you to receive this degree?
Receiving a graduate diploma in orthoptics/ophthalmic medical technology holds significant value for me in terms of professional growth, patient care, collaboration, and future opportunities. It equips me with the necessary skills and knowledge to make a meaningful impact in eye care. It offers a solid foundation for a rewarding career in this specialized domain.
What were the highlights of your degree?
Even with a bachelor's degree in human biology, eyes are rarely covered in undergraduate classes. Even though, quality of life decreases greatly without clear vision. Learning about how different conditions affect the eyes was eye-opening as we might not think about this in our day-to-day lives. Meeting my classmates who were from all over Canada and having access to a highly specialized field filled with talented people who were supportive at every step of the program was one of the biggest highlights for me. Interprofessional health education courses were also an excellent way to interact with other students and professionals in the faculty of health. This allowed for a broader understanding of where I fit into the healthcare field as an orthoptist.
What will you miss about your time at Dal?
I never really got to experience Dal life as any other graduate student would since I spent nearly all my time at IWK Children's Hospital. However, Dal values were also strongly represented at IWK. I will miss Dal's beautiful and extensive library as well as the small campus life which has its own charm. The close-knit program at Dalhousie and IWK was a big change from being in a class of 2000 students in the first year of my undergraduate degree. Being able to access professors from a room away and mingle with them as future co-workers was only possible due to the amazing program available at Dalhousie University.  
What was your journey to Dal and to this program? 
It started off with a career quiz where the results indicated that I'd be best suited to a career called an 'orthoptist'. I reached out to orthoptists all over Canada through the Canadian Orthoptist Association and found out about these programs from there. Dalhousie University offers the Clinical Vision Science program as the only dual certification program in Canada. Dalhousie seemed like the right choice, and it was.
What topics/research/work did you become passionate about during your education?
Patient advocacy and the psychosocial impacts of eye disorders such as strabismus can impact anyone. Being able to explain eye conditions to patients in layman's terms but also interacting with the ophthalmologist in technical terms is one of the roles of an orthoptist. Understanding the condition from the patient's side can increase compliance with treatment and create a better environment for patient-centered care.
What's next for you?
I am looking forward to starting work as an orthoptist and starting my master's degree in Clinical Vision Science. I am also excited about meeting amazing eyecare professionals. I am excited about how they've made eye care more accessible to isolated or marginalized communities through programs such as school vision screenings. I would love to get involved in community services such as these and build my portfolio to provide the highest quality care possible for patients.