News
»
Go to news main
Dr. Marsha Campbell‑Yeo receives honorary doctorate from Swedish university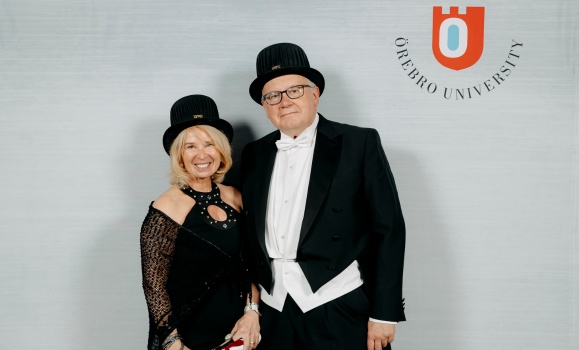 Dr. Marsha Campbell-Yeo (School of Nursing) has been recognized on the international stage for her groundbreaking research in neonatal care, and international collaborations to advance infant health. Earlier this month, Dr. Campbell-Yeo received an Honorary Doctorate from Örebro University in Sweden.
In their decision, the Board of the Faculty of Medicine at Örebro noted:
"Marsha Campbell-Yeo is a world-leading researcher in neonatal care and pain management. Her research concerns strengthening the role of parents in caring for sick newborns, parent involvement in pain relief and how e-health can be used to increase parental participation. For several years, Marsha Campbell-Yeo has collaborated with researchers at Örebro University. She is one of the founders of the international research group PEARL – Pain in Early Life – based at Örebro University. Through her commitment to including researchers and doctoral students from Örebro University in projects and international networks, she has contributed to Örebro University's pediatric pain research being highly regarded in the international scientific community today and to us conducting internationally competitive research. Marsha Campbell-Yeo is President-Elect of the Special Interest Group on Pain in Childhood in the International Association for the Study of Pain (IASP). By appointing Marsha Campbell-Yeo an honorary doctor at Örebro University, we wish to highlight our fantastic collaboration within Pain in Early Life, and her significance for pediatric pain research in Örebro."
Dr. Campbell-Yeo says she felt honoured to receive the honorary doctorate and grateful to Professor Mats Eriksson and Dr. Emma Olsson for nominating her and for the Faculty of Medicine and Science at Örebro University for choosing her as the 2023 recipient.  
"The recognition resonated with me in several ways. First, I believe this accomplishment is reaffirming of my hard work and dedication throughout my career to advancing the field of neonatal pain. Perhaps more importantly, I believe that receiving this recognition speaks to the impact and importance of how strong collaborations can broaden the impact of your work. Ultimately, what is most important is reaching and helping more babies and their families not just locally but also globally," she says.
Dr. Campbell-Yeo first met Professor Mats Eriksson at an International Pain Conference in 2013 and began her collaboration with Örebro University in November 2014. In helping to create and expand the Pain in Early Life (PEARL) Consortium, she was instrumental in bringing together researchers, clinicians, and doctoral students, first from Sweden, then from all the Scandinavian countries, Poland and Canada to innovate and promote collaborative research projects and provide training and mentorship.
The group uses novel ways to increase practice uptake and advocacy to ensure babies benefit as soon as possible from research findings and parents have greater involvement in care. Since 2014, Dr. Campbell-Yeo has been a visiting scholar at Örebro, led or participated in numerous shared research projects, publications, book chapters, international workshops, knowledge mobilization and advocacy initiatives.
"We have led shared training initiatives across numerous countries and continents to help establish a new generation of pediatric pain researchers. I look forward to many more years of working together," she says.
The Consortium is collaborating on the first large network meta-analysis of existing literature to inform the comparative effectiveness of pain reducing interventions in neonatal populations. Additionally, they are completing an updated book chapter in the Oxford Pediatric Textbook, considered one of the comprehensive Pediatric Pain textbooks for multidisciplinary health care providers. They have also launched an international survey to inform what is the current amount and type of parent engagement in neonatal pain care from a global perspective.
Dr. Campbell-Yeo, a neonatal nurse practitioner and a full professor at the Dalhousie School of Nursing, Faculty of Health, holds cross appointments to Pediatrics, Psychology & Neuroscience. She is an affiliate scientist and is the scientific director of the MOMLINC research lab at IWK Heath. She holds grants examining maternal and parent led interventions to improve outcomes of medically at-risk newborns and their families specifically related to pain, stress and neurodevelopment.