News
»
Go to news main
'This space is everything': New space for SHaG Lab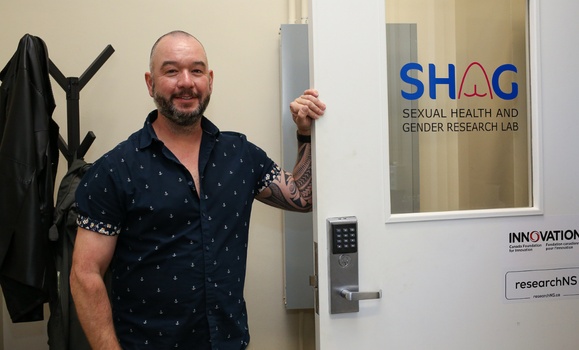 After years spent working in conference rooms, personal offices, and via remote online formats, the SHaG team is excited to be working together in their new dedicated space in the Studley gym.
Dr. Matthew Numer, director of the SHaG lab and professor in the School of Health and Human Performance, explains how the workspace allows for "a level of synergy that can't happen when you're all working remotely."
As research and grant opportunities continue to grow, the SHaG team use their lab's videoconferencing station to collaborate with teams doing similar work, and to participate in nation-wide research projects. Some of their research partners include Dr. Dave Holmes, full professor at the University of Ottawa, and the Community-Based Research Centre (CBRC), in Vancouver.
"This space is everything. You can't have the number of grants that have now come in, and run these projects from anywhere," says Dr. Numer.
Eager to inform equity in health promotion research, several of the SHaG team's recent projects focus on the health of marginalized populations. Some research topics include Queer mental health, the health of sex workers and of people living with HIV/AIDS, and the holistic sexual health of Indigenous men and boys.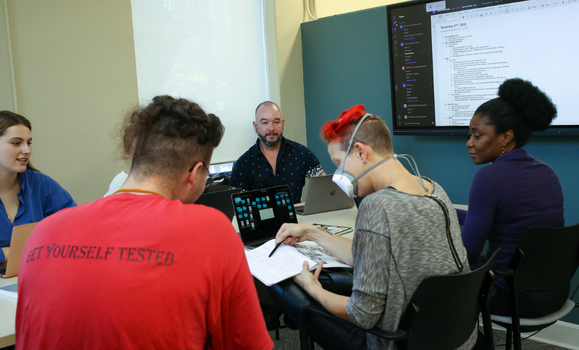 A recent SHaG Lab project explored how substances and hook-up apps create avenues and space for sexual experiences among queer men. Currently, Dr. Numer's team is working on a research project concerning online platforms and men who engage in sex work with other men. Virtual social platforms have greatly shifted the way sex work operates, and gay, bi and queer men's experiences in the profession haven't been subject of a national research project in over 15 years.
"If you are exclusively operating online and through Onlyfans there is a level of safety that can happen, but we also know that a significant amount of it transitions into in-person contact. There's a lot of stuff that goes on that you won't find out until you get out there and start asking people," Dr. Numer says.
The SHaG Lab welcomes a host of masters, PhD, and postdoc students, many of whom have been taught by Dr. Numer in his Human Sexuality course. The course typically boasts around 500 students each semester, with several students opting to use the course as an elective offering. Motivated by students' willingness to learn beyond their degree's required content, Dr. Numer is constantly seeking out ways to make the course more "meaningful".
As an effort to further engage students in class, Dr. Numer started using the Top Hat courseware in his classes years ago. Picking up on students' hesitancy to participate in class discussions, Dr. Numer encourages students to submit their answers to course questions anonymously, through the courseware's survey function. After recently publishing a digital textbook on course content through Top Hat, he has just completed revising the US edition with Dr. Nicole McNichols at the University of Washington.
The SHaG team is grateful for the ongoing support of their grant donors, which include the Canadian Institutes of Health Research (CIHR), the Dalhousie Medical Research Foundation, the Canada Foundation for Innovation (CFI), the Social Sciences and Humanities Research Council (SSHRC) and more.