News
»
Go to news main
Honouring their military past: PhD in Health candidate helps veterans rediscover fun, identity through art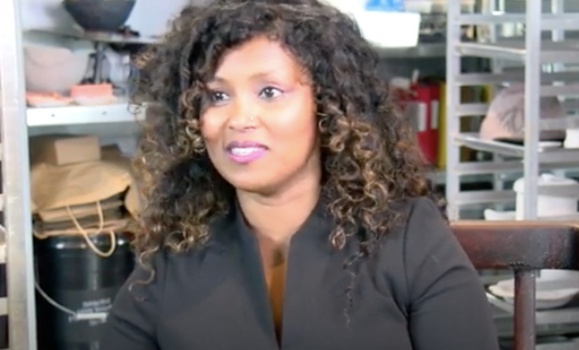 PhD in Health candidate Lynette Peters has established the Cerberus Helmet Project, designed to serve active and retired Canadian Armed Forces (CAF) veterans and public service personnel. Peters has a ceramics studio which provides no-cost access to creative expression through pottery and glaze lessons.
Using unserviceable helmets as moulds for clay art, participants can re-imagine what uses it could have.
"As the artist-instructor, I guide individuals through clay-based projects to create functional wares. Since the final piece is one that has been informed by the helmet as a mould, the product serves to acknowledge service history. The exciting part is that it also is a product that has been infused by the autonomy of personal style, ability, and identity. This project directly supports the literature impetus to create programs that help individuals to find new meaning and purpose after service." Peters says.
"It's about fun, creating something that you like; something about your personal style, your identity. And taking a helmet that once had purpose for one thing and seeing that it can have a multitude of purposes and so this helmet's purpose is to act as a cradle for new work."
'This is novel work'
Peters said the idea came to her during the pandemic, when she looked at helmets she had in her studio, and realized she could work with veterans and get them to reconnect with who they were and who they wanted to be.
"I worked with one Canadian Forces veteran who had deployed on numerous occasions. He made a chip bowl that he eats snacks out of in his retirement. This helmet is currently displayed as a centrepiece that is a point of pride and conversation. All of this started with the potential of raw materials, an unserviceable helmet and human imagination."
Her work involves understanding what the role the creative arts and craftsmanship means to Canadian Armed Forces veterans who transition from service. It's an area of research that is unexplored.  
"This is novel work, and I didn't realize how novel it was until a scoping review turned up nothing that could tell us about Veterans and art without therapy, which is entirely different. Who are our Canadian Armed Force veterans? Let's see their strengths, and who they are as individuals. We need to be inclusive, so I leave out release or injury and illness. I like to see them through the lens of craftmanship, because it's a tenet that runs very true through service and trades."
Moments met with magic
Peters is the inaugural winner of the 2022 Leon & Rose Zitner Prize at Dalhousie, winning by unanimous vote.
Peters says pick up day in the studio is the best day, as participants are full of excitement to see the results of what they created, and that the moment is always met with magic.  Servicepersons often keep in touch, and some send her photos of other pieces of art they have created since working with her.
She hopes to eventually have a gallery production to display created artforms of veterans.
"These people are incredible, and we are lucky that we had them to stand up for us, and that people continue to choose this line of work."
The Leon and Rose Zitner Prize was established in 2020 by Dr. David Zitner. In collaboration with the Healthy Populations Institute and the Faculties of Medicine, Dentistry and Arts and Social Sciences, this $5000 prize will be awarded to a Dalhousie student for outstanding contributions to citizen knowledge and community engagement in the area of health and wellbeing.   
Applications for this year's Leon and Rose Zitner Prize are open now.