News
»
Go to news main
Dal Health heads to Three Minute Thesis finals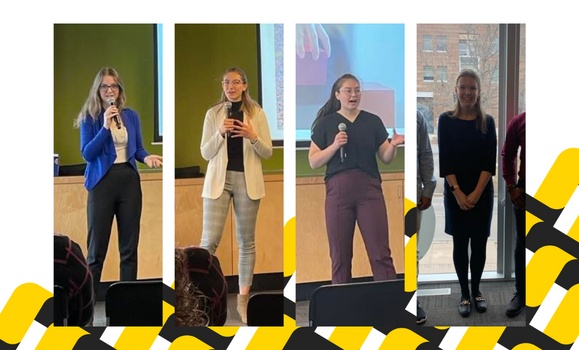 Masters' students across Dal Health delivered excellent presentations to the audience and panel of judges at Dalhousie's 10th annual Three Minute Thesis (3MT) preliminary rounds.
Four Dal Health students are advancing to the finals on March 20th – Melina Markotjohn (Communications Sciences and Disorders), Olivia Crewe (Physiotherapy), Juliet Rowe (Physiotherapy) and Erin McConnell (Nursing).
Jennifer Boone (Health and Human Performance) and Esther Bonitto (Pharmacy) also delivered presentations.
3MT is a skills development activity that challenges grad students in research-based programs to explain their thesis or project to a non-specialist audience in just three minutes.
Markotjohn's presentation was about how training people to use their post auricular muscle behind the ear (think of a cat moving their ears when they hear a noise behind them) could assist in improved precision in directional hearing, which would be useful for technology such as gaming headphones or hearing aids.
Crewe talked about the prevalence of osteoarthritis, especially in the knee, and the lack of a standard of care after total knee replacement surgeries.
Rowe's presentation asked if size really matters – in reference to the size weight illusion (imagine picking up a small block that weighs the same as a big block – you may perceive the smaller block as heavier since you would normally think big is heavy and small is light), and how that can be used in motor imagery and helping brain injury patients improve their motor skills.
McConnell spoke about supporting patients after kidney transplants.
Crewe says she's nervous but excited for the finals.
"I really like the knowledge translation piece, getting people to understand our research."
Rowe says she loves mixing science with creativity. Markotjohn says it was great to get the jitters out in front of a smaller audience and now she can improve her presentation for the finals.
Cheer on our Dal Health finalists on March 20th at 6:00 PM.