News
»
Go to news main
Dr. Sarah Moore donated her kidney and saved a life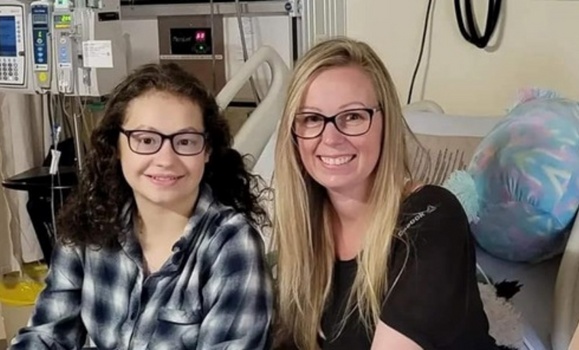 On August 15, 2019, 14-year-old Jessie Gross was diagnosed with kidney failure. This diagnosis came with countless hospital visits, trips to the children's hospital for what seemed like never-ending lab work, and eventually dialysis. Gross and her family began to search for a donor. With no one eligible to donate in her family, Gross's mother took to media to find a donor. With a less common blood type, finding a donor was going to be a challenge, but they were determined to find their daughter a match.
Gross was on dialysis for 34 months. Through their media campaigns, many reached out to the family to offer support, but none were a match. With Jessie on dialysis for 13 hours daily, she could no longer play hockey or go to school. The family made the best of it and Gross continued to excel at school from home, and her family kept her busy with activities. While dialysis was doing what Gross's kidneys couldn't, they knew this wasn't a long-term solution. A new kidney for Gross was the only option.
Gross, who lives in Kitchener/Waterloo, knew that a living donor would provide the best outcomes. About 30% of organ donations in Canada are from living donors. Kidneys from living donors tend to last longer – which is even more important for pediatric patients.
'When you have a chance to act, you act'

In November 2021, Gross's soon-to-be donor happened upon an article being circulated on social media. Dr. Sarah Moore, Assistant Professor in the Faculty of Health at Dalhousie University, knew immediately she needed to be tested. "It was something I felt I needed to do," she said. Being in Nova Scotia, Moore was approved for work up locally through the Halifax's Multi-Organ Transplant Program. The process is thorough and time-consuming.
Physical and psychological health screening takes time, and this was especially true given the backlog due to COVID-19. When a donor doesn't know the recipient, there are additional screenings for compatibility and readiness. After several months, Moore was finally given the approval to donate and Gross and her family were notified.
"Sometimes you get an opportunity to do something that makes someone's life just a little bit better," Moore said, "I just wanted to show others, my young sons, my students, that when you have a chance to act, you act."
Kidney buddies for life
Moore travelled to Ontario. A date was scheduled for surgery – July 5, 2022. Gross was admitted to SickKids for her surgery and Moore across the street at the Ajmera Transplant Centre at the Toronto General Hospital. The morning of July 5 came quickly. Moore and Gross texted back and forth as they were prepped for the OR. After hours of surgery, now 16-year-old Gross received Moore's kidney. Moore was sent home for recovery, and Gross stayed a while longer at SickKids, before being transferred to McMaster Children's Hospital, and then returning home.
It was a bumpy few months of recovery for Gross, but now, seven-months post-surgery, she is doing well, feeling healthy, receiving support from her service dog Cooper, and preparing to return to school and activities. As for Moore and Gross, they are now kidney buddies for life, and Moore is considered a new member of the Gross family.
"Thanks to Sarah's selfless act and generosity, Jessie now has a second chance at life," Kim Gross, Jessie's mother wrote to share the news of the transplant, "My words and emotions are indescribable for her life saving gift." And for now, Gross lives independently without the need for dialysis, and is getting stronger every day. "We hope that others will consider living donation," said Kim and Jessie, "kidney donation saves lives".
Organ donation in Canada
In Canada, there are over 4,000 people waiting for an organ, and about 77% need kidney transplantation. Patients wait years for a transplant, and often their health deteriorates in the meantime. The median wait time for a deceased donor is approximately 3.5 years in Canada. Dialysis is the best treatment for those awaiting transplant.
Organ donation was changed to presumed consent in Nova Scotia, effective January 18, 2021 with the Human Organ and Tissue Donation Act. The province has seen a 40% increase in donations, yet still, most other provinces do not subscribe to this 'opt out' program. Ontario has no such program.
March 9 is World Kidney Day, a global awareness campaign. It's a day that aims to raise awareness of the importance of our kidneys to our overall health and to reduce the frequency and impact of kidney disease and its associated health problems worldwide. Moore and the Gross family ask you to consider organ donation on this day.
Learn more about World Kidney Day and living organ donation.