News
»
Go to news main
Dal Hearing Aid Assistance Program receives Lions Club donation
Posted by
Josey Houle, Dal Health freelance writer
on January 5, 2023 in
News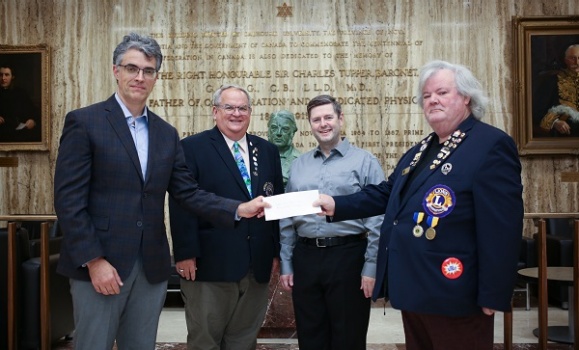 The School of Communication Sciences and Disorders' Dalhousie Hearing Aid Assistance Program (DHAAP) recently received a cheque for $4,750 from the Lions Club. It was presented by David Hunter, district governor of District N 2 – Lions of Nova Scotia.
The funds will aid the program's students and professionals in their mission to distribute hearing aids to more than 100 low-income adults across the Halifax Regional Municipality and beyond.
"This generous donation means we can continue providing support to those who desperately need to communicate with their friends, family, and community," says Dr. Michael Kiefte, director of the School of Communication Sciences and Disorders.
Meeting myriad needs
The DHAAP clinic was created in 2011 by recently retired School of Communication Sciences and Disorders faculty member Dr. Rachel Caissie, in partnership with Hearing and Speech Nova Scotia (HSNS) and the Society for Deaf and Hard of Hearing Nova Scotians.
DHAAP provides hearing aids for adults, especially seniors, who can't afford insurance, or who don't have enough of it, to cover the cost of the devices. Since its launch, the program has been successful, expanding outside the HRM to reach people across the province with the support of HSNS.
In addition to helping Nova Scotians improve their hearing, the clinic also provides learning opportunities for Dal students in the MSc Audiology and MSc Speech-Language Pathology programs. Interns and externs can complete their 12-week fieldwork placements there.
The clinic receives hearing aid donations from manufacturers and various members of the community. They're collected by the Lions Club, which has also helped raise money for the DHAAP in the past.